Top 5 Canadian Tech Stocks (DOCKS): Can they skyrocket like the FAANGs?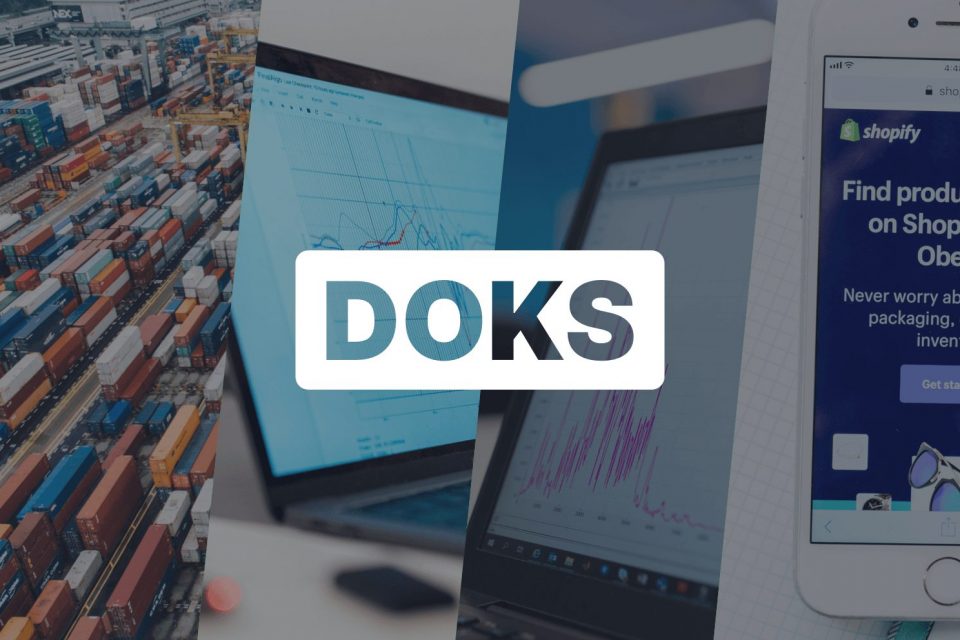 Amazon, Facebook, Apple and Tesla have been blowing out their quarters and rocketing into the stratosphere, but what about their Canadian peers? It's time to meet the DOCKS, the top 5 Canadian Tech Stocks.
Meet the Top Canadian Tech Stocks (DOCKS)
Descartes Systems (DSG)
Open Text (OTEX)
Constellation Software (CSU)
Kinaxis (KXS)
Shopify (SHOP)
Sure, Shopify's stock is orbiting Mars, but what about the rest of the Canadians DOCKS: Descartes, Open Text, Constellation Software and Kinaxis? In a pique of patriotism and the eternal search for yield, let's look at these homegrown tech names and see how they stack up.

Top Canadian Tech Stocks: Descartes System Stock (DSG-T)
Using the cloud, Descartes takes care of the logistics behind shipping stuff for companies. They're good at what they do and are considered a world leader in global logistics. True, the stock trades at a 154x PE and only 0.06% of shares are owned by insiders, but revenue growth tops 18% year-over-year, the one-year total return is 55% and over five-year stands at 241%.
At the start of the pandemic, DSG tumbled from $62/share to $44, but has since catapulted to $75, above its 50-day moving average of $71.70 and 200-day average of $60.90. Also, its quarterly earnings grew YOY by 50.9%. Descartes has momentum, especially with the Canadian economy recovering faster than expected. So, does it have more room to run? Analyst Michael Decter observes that the Descartes Stock benefits from the chaos in trading goods, meaning Trump's tariffs and threats against China as well as the ongoing pandemic will keep trade turbulent at least until the November 3 vote.
A clue to the stock's near future may lie in its chart of the past month, dipping to $70 before bouncing back to its current $75. I'm not a technical analyst, but $75 may represent a resistance level as we enter August, historically a time for pullbacks. Though not heavily covered like Shopify, Descartes boasts fans on Bay Street, and has long blown past its price target of $57.47. (Dividend investors are out of luck, since Descartes is like most tech stocks and doesn't pay a divvy.) Buy on weakness.

Top Canadian Tech Stocks : Open Text Stock (OTEX-T)
I wrote about this stock recently, so I won't repeat my assessment here. However, I will sum things up by saying that OTEX has increased only 5.3% year-to-date, but has the potential to perform much better once the U.S. contains COVID-19 and gets back on the economic track.
Another tailwind is OTEX's recent cloud agreement with Amazon Web Services. If this isn't a buy now, it's definitely one to place on your radar.
Top Canadian Tech Stocks : Constellation Software (CSU-T)
Constellation Software Barry Schwartz thinks low interest rates gives the Constellation Software stock an advantage. If you believe interest rates will continue to be low, the company's business model is very attractive. It can use the cashflow to continue acquiring software companies.
It will probably become an enormous company and continue to grow. It is undervalued. Constellation Software is David Baskin's favourite among the DOCKS stocks. They make good acquisitions shrewdly, which made them grow into the dominant Canadian name. He thinks it's a better bet until Shopify starts being consistently profitable.

Top Canadian Tech Stocks : Kinaxis Stock (KXS-T)
Kinaxis offers cloud-based supply chain management software to businesses in defence, cars, consumers products, electronics, pharma and elsewhere. Business isn't good; it's great. Kinaxis has beat its last four quarters (and next reports on August 5). YOY revenue growth is 27.57% and the company boasts a one-year return of 141% and 433% over five.
It trades at a PE of 126.58x. (Again, no dividend.) Since the March 23 bottom, KXS has steadily climbed to its current $200, but like Descartes, Kinaxis shares recently slippedy. KXS hit a high above $211 in early July, slipped to $187, then climbed to its current $203. Is this rally running out of steam? Kinaxis' next earnings report will be pivotal. No doubt that its numbers will continue to be strong, but will they match the street's lofty expectations? Audrey Omelchak would still buy at these levels, given KXS' highly recurring revenues and quality clients. She also sees a chance for KXS to penetrate deeper into this wide market.
Two months ago, James Telfser championed the stock, partially for the company's huge backlog of orders. I prefer Darren Sissons' assessment: the valuation is high and this will tumble during a market correction. But long-term, Kinaxis is a winner and a Canadian success story.

Top Canadian Tech Stocks : Shopify Stock (SHOP-T)
A Shopify bull and bear recently meet on a patio over drinks:
Bull: This stock is on steroids! Crazy momentum. A ginormous homegrown success. With brick-and-mortar flocking online, Shopify can only benefit and continue to surge.
Bear: Yeah, a tremendous run, but based on what? I read somewhere that the PE of the U.S. stock is 1,100x! And I thought Tesla was nuts at 774x. To compare, Microsoft's is only 35x. Sure, Shopify is on a run, but it's fueled by hype and speculation. It's like the days of weed stocks before legalization or when Bitcoin went ballistic.
Bull: The online retail trend is here to stay. Sure, big pharma is accelerating the testing of COVID vaccines faster than at any other time , but it's still going to take at least a few months before anyone announces a breakthrough and customers flood back into shops. Until then, Shopify will soak up all this e-commerce demand.

Bear: I don't doubt the online trend, but I would like to see more profit growth in Shopify. It comes down to the numbers. A lot of good news has been baked into the price already. Parabolic growth always sees parabolic falls.
Bull: What about Tesla? A few years ago that stock shot up and investors like you were skeptical. Look where Tesla is now.
Bear: Tesla's also overbought by hype.
Bull: You're missing out.
Bear: You're gonna lose your shirt. Me. I'd rather buy gold.
---
Trending Now