Questrade Review: Pros & Cons of Trading with Questrade Canada (2023)
Posted On September 1, 2023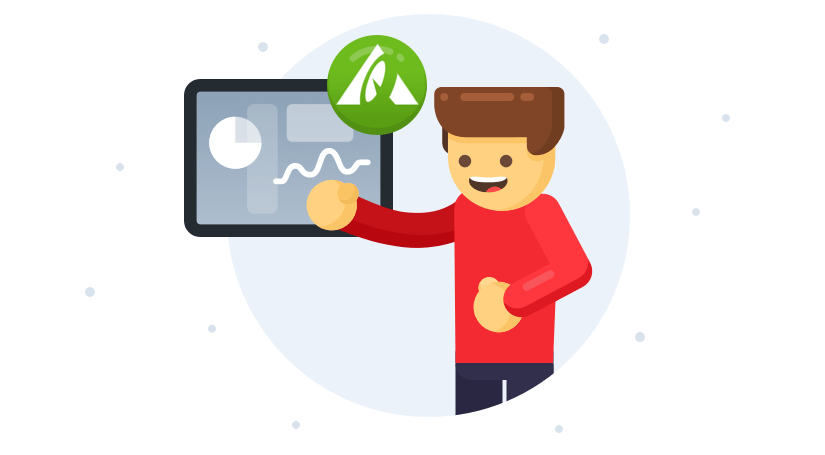 Being a frequent reader of Reddit's Canadian Investor, Personal Finance Canada and RedFlagDeals Investing, I always see the same question…
"Who is the best Canadian brokerage?"
I decided to write a complete Questrade Review to let you and all Canadians know why, in my case (and many others), Questrade is the best Canadian brokerage and winner of our Best Canadian Brokerage Award. I have screenshots of many conversations and polls where people ask about the "best brokerage". Questrade almost always gets the most name-drops and positive testimonials.
They will also transfer you for free.
Here's a quick summary of why Questrade is our favourite brokerage…
UPDATE: Questrade's New Web Platform and Mobile App
Recently, Questrade updated its web and mobile platform by adding some new useful features:
Questrade pre-market trading hours will now begin at 7 am EST so you can get a head start on your trading day.

Through the mobile app, QuestMobile, you can now access Learning Mode to gain more insight regarding investing terms, equity charts, asset allocations, etc.

Thanks to a more efficient design, you can now go from researching a stock to trading it faster than ever before.

You can choose to log in via biometrics.

You can own a stock or ETF with market orders that execute in real-time.

Thanks to the single-screen view of all the accounts that you have such as RRSP, TFSA, Margin, you can now instantly have a clear idea of how your portfolio is performing. With just a swipe, you can also dive deeper into any account.

As soon as the market opens, you can get real-time snap quotes and refresh by simply swiping down.

No matter how many stocks and ETFs you have added to your watchlist, how many watchlists you have, or how many devices you use to invest, your watchlists will be synced across all of your devices.

You can customize your alerts and receive notifications for any stock or ETF you're interested in to not miss any opportunity.
Besides all these changes, Questrade is also developing a new app that will cater to advanced traders who are interested in trading options or placing more advanced order types.
Note: Questrade's new Mobile App is great. But there has been lots of backlash against the new Web Platform. Especially because everyone was pushed onto the new platform with no previous notification and it feels like there was no way back. But, everyone used to the old Questrade platform (called Edge) can go back using the 3 bar menu and enabling Edge in the platform page. I personally feel the new Web platform is for beginners and I prefer Edge 100 times more. Too bad they did not enhance Edge though.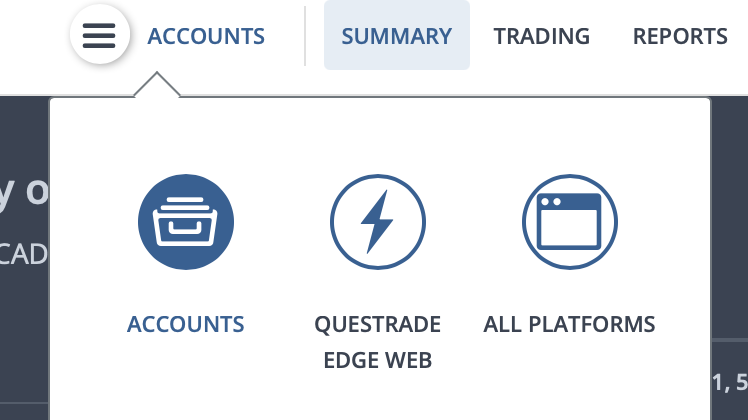 Questrade + Canada = ❤
---
Affiliate Disclaimer – Even though we receive referral fees from companies mentioned on this website, we try to make our reviews unbiased and backed by our own experience and social proof. If you sign up for Questrade using our affiliate link we may earn a commission. We will use most of the revenues to make Stockchase and Wealthica better. Your support helps and we genuinely appreciate it. If you don't want to use it, here's a non-affiliate link to Questrade. Either way we truly believe they're the best brokerage available in Canada and that you'll be happy with them. Do your research on Google, Reddit and Facebook groups and you'll find most people say the same.
Introduction to this Questrade review
If you are looking for an extensive comparison between all the available Canadian brokerages, read our Questrade vs the Others extensive comparison. But if you want to know why so many people recommend Questrade, then keep on reading.
I work at Wealthica, a consolidated portfolio tracker for Canadian investors and I also run Stockchase which, according to The Globe and Mail is "The only website on earth that has documented the stock picks and pans of every single guest who's appeared on BNN Market Call programs since the year 2000." – I need to know who's the best Canadian brokerage!
Here's our Questrade Review – structured with pros & cons, comparisons and social proof – I included tons of unbiased social proof in this Questrade review – based on our experience as customers. Comment if you have questions, I'm pretty sure you'll like Questrade.
Is Questrade legit?
Questrade is a legitimate and reputable independent brokerage you can trust. Founded 20 years ago (1999), they are based in Canada, headquartered in Toronto and focus on providing stock trading apps for all Canadians.
Challenging the big banks
They have $8+ billion of assets under management. From the start, Questrade positioned themselves as offering low fee online trading solutions as an alternative to the big bank-owned brokerages.
They have great live chat support and modern desktop and mobile trading apps.
They offer a wide range of investment accounts : TFSA, RRSP, RESP, Margin, Cash and all account types you can think of, allowing one to trade stocks, options, mutual funds, ETFs, bonds and precious metals on the Canadian stock market and the major US markets.
Market leader
They were the first Canadian brokerage to allow holding US Dollars in registered accounts. That was in 2010. It took Scotia iTrade, one of the best big bank-owned brokerage, 8 years to catch up.
Wealthsimple vs Questrade
If you want to compare Questrade vs Other Canadian Brokerages, you might want to go straight to our extensive comparison post here.
We added a Wealthsimple vs Questrade section in this post because it's a question that comes up quite often. We consider Wealthsimple Trade is a great complement to Questrade but not a replacement. Especially because of the high commission on currency exchange and the lack of a real USD account.
Read our full Wealthsimple vs Questrade review here.
My Questrade Story
Like most Canadian DIY investors, a few years ago, I went searching for the best Canadian brokerage for self-directed investing. As many of you have probably done already, I first went with my bank's brokerage. I bank with Desjardins. They kill it at banking and their AccessD banking portal is incredibly feature-rich.
Unfortunately, good in banking doesn't mean good at brokerage.
I transferred to Questrade. I was instantly happier with the improvements and helpful support. I rarely contact them but when I do, I use the live chat and have quick real-time answers to my questions.
Later I heard good things about Interactive Brokers and gave it a try but I stuck with Questrade. Interactive Brokers was not bad but overly complex.
I have both an individual margin account and my TFSA at Questrade.
I recently moved my TFSA from CIBC (it was with an advisor) and sold all the mostly bad stuff my CIBC advisor had bought :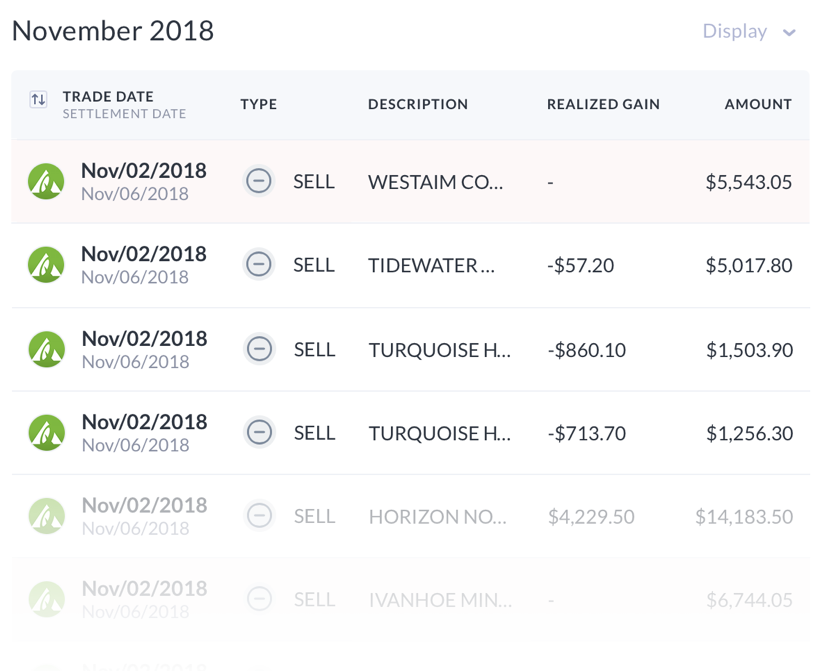 Questrade transactions tracked with Wealthica
I bought growth stocks (AMD, Apple, Spin Master, Nintendo, etc.) and made a few very small cap bets that hopefully will perform well. 🌱
I've been a happy Questrade user since 2015.
The Stock Chasers' Top 3 Canadian Brokerage Ranking
Don't take our word for it, look at the RedFlagDeals and Twitter polls. If you are planning on opening a new trading account, there are three Canadian brokerages that are worth considering.
You can read our Questrade vs Others, The Review Competitors Don't Want You To Read detailed brokerage comparison post if you want to go deeper into comparing Questrade with the other Canadian brokerages.
My Top 3 Canadian brokerages are :
🏆 Questrade – Best of All Canadian Brokerages
🏆 Interactive Brokers – Best for Frequent and Advanced Traders
🏆 Scotia iTrade – Best Big Bank-Owned Brokerage
What is Questrade's Review Score? Is it a Good Brokerage?
Questrade scores 84.8% on our review. It's the best out of all Canadian brokerages and the one that will fit the needs of most Canadian DIY investors. Interactive Brokers and Scotia iTrade come next. Go ahead and compare if you'd like. We're confident you'll come to the same conclusion we did.
Top 10 Reasons Why I Use Questrade
Questrade has great apps.
Beside low fees, it's my #1 reason for choosing them.
Why I 🖤 Questrade
They have the lowest fees overall
I can Buy ETFs for Free (unlimited)
They make it simple to buy, sell or watch stocks
They supports all types of accounts : TFSA, RRSP, RESP, Margin, etc.
They have US dollars in registered accounts (avoid forced conversion)
They offer a App Hub & API to connect third-party apps like Wealthica
There is no annual fee and Questrade recently dropped the inactivity fee)
They have Paperless sign-up, start trading within 3 days
No fees for client under 25 and myFamily account pooling
I want my trading app to be easy to use, easy to navigate, have a nice and modern user interface and make it fun for me to buy or sell stocks. Many brokerages, especially the big bank-owned brokerages, have incredibly outdated apps.
Have a look at RBC Direct Investing's Mobile App for example. It's awful. Virtual Broker's Mobile App is rated 1 star on the App Store. You can have a look at Questrade App's Screenshots to compare if you'd like. They are awesome. 🤩
Questrade Fees Uncovered – Is Questrade the Cheapest Brokerage?
Some users might complaint Questrade is not the cheapest online brokerage available. It's true that Virtual Brokers and Interactive Brokers advertise a lower fee per trade. It's important you consider the full fee table of the brokerage to compare.
For example, at Interactive Brokers you pay a maintenance fee unless you have $100,000 of equity in your account or pay at least $10 in fees per month. Questrade recently dropped the inactivity fee on any accounts.
Here's everything you need to know about fees at Questrade…
16 Questrade Low Fee Facts
Trades are $0.01 per share (min $4.95 to Max $9.95)
You can trade options for $9.95 + $1 / contract
DRIPs are free (synthetic DRIPs)
There are ECN fees if your order removes liquidity (see how to avoid ECN fees)
Transfer fees are reimbursed if you transfer $25K or higher
There are no admin fees for TFSAs or RRSPs.
RESPs have a $50 fee if investments are less than $15K
There is no inactivity fee (recently dropped)

A family can pool accounts to reach $5000 and waive inactivity fee

Inactivity fee is waived if you place one trade in the quarter

Inactivity fee is waived if you deposit $150 in the quarter

Inactivity fee is waived if you are 25 years old or younger

You pay a fee when you sell ETFs
You get free real-time market data but might need to click refresh in the web app
You can avoid currency conversion fees using Norbert's Gambit
The same information confirmed by John at Questrade on Reddit (it's nice to see members from the Questrade team answer questions on social medias)….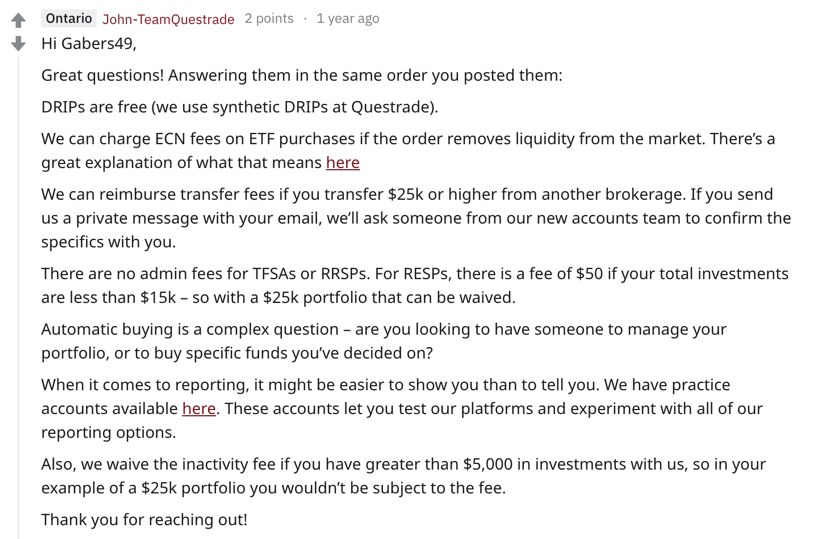 Who is Questrade for?
I opened my first brokerage account because I wanted to buy Apple stocks.
It was 2011. It gave me a pretty good return.
Questrade is for everyone that wants to start saving and DIY investing. Whether you are a young investor that want to start to invest in your TFSA, you want to buy some stock top picks you spotted on Stockchase, you're into index investing or you want to start saving for retirement and self-direct your RRSP account, you should definitely get your Questrade account ready.
Is Questrade really for you?
It is a must for the Canadian investor.
Questrade will fit most if not all of the use cases for a brokerage account. There are only two reasons and specific user profiles that might make you want to look for an alternative:
– You are an advanced or frequent trader
– You favour banking integration over everything else – you should reconsider it 😊
If you are not an advanced or frequent trader, don't bother looking for an alternative. Questrade is the best Canadian brokerage for you. You will be happy with them. If you are an advanced trader, you might want to look at Interactive Brokers.
Opening a Questrade account online
Questrade is paperless. 100% online.
To open an account at Questrade you simply fill the online forms and upload the required documents (for identity verification).
The process can be completed 100% online. Once your account is open, it's time to initiate an account transfer or transfer funds.
The easiest way to transfer funds to Questrade is using your banking payee payment feature. You setup Questrade as a provider and you send them money as you do when you pay your utility or regular bills online.
Funds usually arrive within 1-2 business days.
Once your account is active and funded, you can use Interac Online for additional deposits, it's free and the money arrives in your account instantly.
#1 on RedFlagDeals and Twitter Polls (Social Proof)
Who is the best Canadian brokerage is a question that has been asked over and over on Canadian Finance and Personal Finance Canada on Reddit.
We searched for some neutral and unbiased best Canadian brokerage polls. We found a few on RedFlagDeals Personal Finance and Investing forums community and one about charting on Twitter.
Questrade was #1 in both most preferred and most popular brokerage polls. It was also #1 in the Twitter charting poll. In total, about 450 people who are knowledgeable about investing voted on these 3 polls.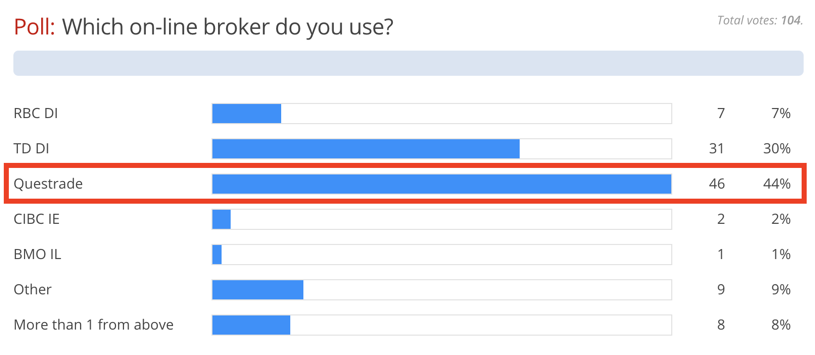 Most popular online brokerage poll on RedFlagDeals.

Preferred online brokerage poll on RedFlagDeals.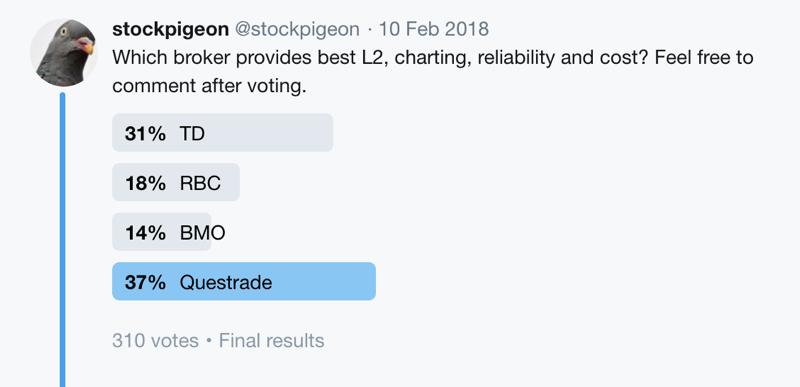 Best L2 charting poll on Twitter.
Most recommended on social medias (more social proof)
Questrade is almost always the most recommended and backed by positive comments from users.
I have screenshots of many conversations and polls where people ask about the "best brokerage". Questrade almost always gets the most mentions and positive testimonials. I did some research for you and outlined some of the most frequent and best comments. Sure some people recommend other options; Questrade is not perfect, but I honestly believe it's the best Canadian brokerage available and that you'll be happy trading with them.
So many people recommend Questrade. Just see my screenshots below. 😮
You can subscribe to Canadian Investor and Personal Finance Canada to ask your own questions and validate what people recommend.
Here's a bunch of social proof I collected, all posted on Reddit…
















If it's not enough, I have more positive user feedback screenshots from Twitter.
Cons of using Questrade turned into Pros
I posted many positive social comments above but I hear you whispering that I chose only the positive comments. Some people do post negative comments, it's inevitable, but you'll be able to turn most of them into pros once you are using Questrade. Here are the most frequent cons about Questrade.
Myth: There is no real-time market data
Free real-time market data is available at Questrade in both Web and Mobile apps but you need to know the trick to get it. When you log into your trading dashboard and load the buy & sell form for a specific stock, you will find a small arrow at the top right of the stock information.
By default it will show 15 minutes delayed price data but if you click on the small arrow you automatically get the real-time stock price.

They are not the cheapest
Look at the 16 Questrade Low Fee Facts table for all details on Questrade's fees. Questrade might not be the cheapest in all use cases, but if you consider that it recently dropped any inactivity fee, if you use Nobert's Gambit for CAD to USD currency conversions, and if you also make sure to avoid ECN fees , then Questrade should be, if not the cheapest, very close.
You also need to consider that Questrade offers Live Chat support, have the best mobile and web apps for trading and they offer unlimited free ETFs purchases while other brokerages limit access to a limited set of ETFs.
Even if Questrade ends up costing you a few pennies more, rest assured it's well invested. Virtual Brokers was more expensive than Questrade but recently lowered its fees. Good luck using Virtual Brokers' apps. It's awful and full of bugs. As for Interactive Brokers, unless you have $100,000 invested there's a monthly minimum fee you have to pay, so it makes it more expensive than Questrade if you don't trade that often.
Questrade will charge ECN Fees
It's true Questrade will pass on ECN fees to you.

But, as angelus97 comments on Reddit, you can avoid ECN fees by making sure you do not remove liquidity from the market.
Have a look at some of my trades. You can notice the higher fee when buying small caps and lower fees when buying regular stocks. 🌱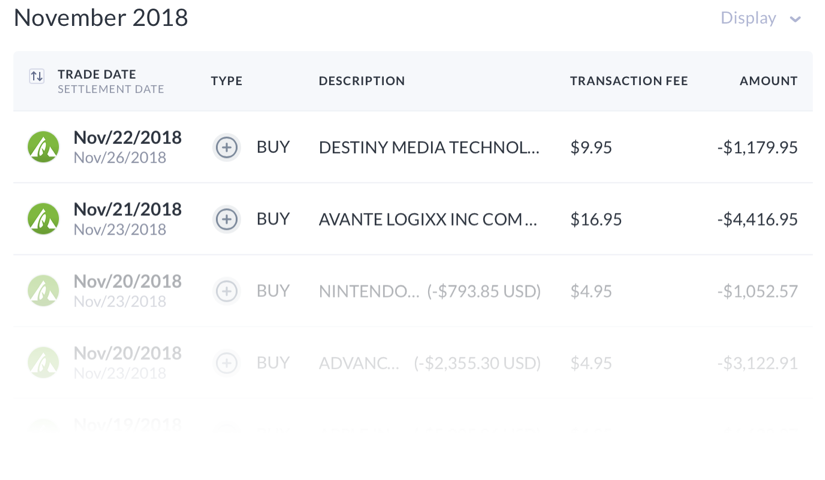 Questrade transactions tracked with Wealthica
As you can see from my screenshot, my Nintendo and AMD trades cost only $4.95. Questrade's transaction fees are among the lowest in Canada (1¢/share, Min $4.95 – Max $9.95). I had higher transaction fees ($16.95) for buying Avante Logixx. This occurs when you remove liquidity from the market. They are called ECN fees. You can and should avoid them if you are careful.
You can't buy /sell at market. You need to enter a limit price and wait for the market to come to you. This means your trade will not go through immediately but only when a seller changes his selling price to match your buy limit price.
Unless you are desperate for a small cap stock it shouldn't be hard to configure your trades with a limited price and avoid ECN fees.
Myth: I heard Questrade has bad support
Questrade is 20 years old. Support at Questrade might have had ups and downs. Also, problems can happen and when they happen, they might be amplified on social media. Maybe there was a time a few years ago when Questrade was not the greatest at support but recent reviews praise its support services.
Look at all the positive user feedback. It would be impossible for a company that does not value customer support to get so much good feedback. You can find people from Questrade on Twitter, on most Social Media and even Reddit.
I rarely have to contact them, but when I do, I use the live chat and have had quick, real-time answers to my questions.
For a second time in a row, Questrade has won the 2019 DALBAR Canada Seal for Service Excellence. According to DALBAR, firms are evaluated on all critical service categories and recognizes those that provide exceptional service in all areas. The criteria include security handling, expertise, attitude and call flow. In order to qualify for the DALBAR Seal, companies must exceed stringent benchmarks in criteria covering all aspects of their interactions.
Myth: I read they have bad apps. Really?
They have the best online trading apps in term of usability.
They do not have the most features, Interactive Brokers does, but it's the best user experience. I compared and logged into the apps of each one of the Top 10 Canadian brokerage. Take a look at my screenshots and complete analysis. Some are so bad I couldn't stand the review process. Questrade has great apps that are updated frequently. Be the judge, have a look at my screenshots.
How I use Questrade
I don't use Questrade as a standalone app. Most of the time when I buy or sell stocks, I am switching between a few apps : Questrade, Wealthica, Stockchase, Google Finance and Tradingview among others.

Sure I use Questrade to execute my buy & sell orders for the the stocks.
But even if I have real-time market data on Questrade, I prefer using Google Finance to find the real-time price of a stock and browse its chart. Sometimes I also use Tradingview. These sites give you better charting tools than any brokerage.
I also read expert opinions about the stock if it can be found on Stockchase.
I also use Wealthica to track all my investment accounts, generate my capital gain tax reports and have a consolidated view of all my investments in one place (I have investments at multiple financial institutions in addition to my self-directed accounts with Questrade).
That's the perfect mix of investment tools for me.
Open banking and third party API
One of my favourite feature of Questrade is the App Hub.

Questrade is one of the few Canadian financial institutions to endorse open banking and allows for easy and secure interconnection with third party applications. Within Questrade's App Hub, you can connect with partner apps for an even better trading experience. This allows users to have greater control over their financial data, and better manage their investments.
The API allows you to connect your account securely with Wealthica. Wealthica is made by the same team behind Stockchase. Connecting your Questrade account with Wealthica will make it easier for you to to calculate your capital gains, automate your investment spreadsheet or get a consolidated view of all your investments.
You will also find the Passiv App which you can use for automatic rebalancing of your portfolio at Questrade. The App Hub and the API is something that really sets Questrade apart.
More Social Proof
As promised, here is more social proof that I found on Twitter…





$50 in free trades at Questrade
I hope you found our Questrade review helpful in choosing from the many online brokerages available! If you open an account using our affiliate link, you'll get $50 in free trades and free account transfer.
If you are already considering opening an account, we would be grateful if you use our
affiliate link
or
Coupon Code: IFUGIDVD
to get
$50 in free trades
. We worked more than 150 hours already to complete this extensive Questrade review and back it with social proof. And we're investing more time to keep it up to date. If our review has been useful to you, you can give back using our link to sign up. We truly believe
Questrade
is the best brokerage available in Canada and that you'll be happy with them.
If you have any questions, feel free to drop us a reply, follow us or email us.
Read our disclaimer below about how we do our due diligence in keeping our review unbiased even though we might get a commission if you sign up.
Thank you for reading! 🙏
We tried to cover as much as we could. We really love Questrade and feel they give Canadians a real quality alternative to the big banks. It's also the #1 financial institution at Wealthica, and they refer many users through the App Hub. ❤️
Leave us comments, tell us if you agree or not and if we forgot something we should add. We update our review regularly.
---
Trending Now
You may also like