Questrade vs Others | The Review Competitors Don't Want you to Read (2023)
Posted On August 15, 2023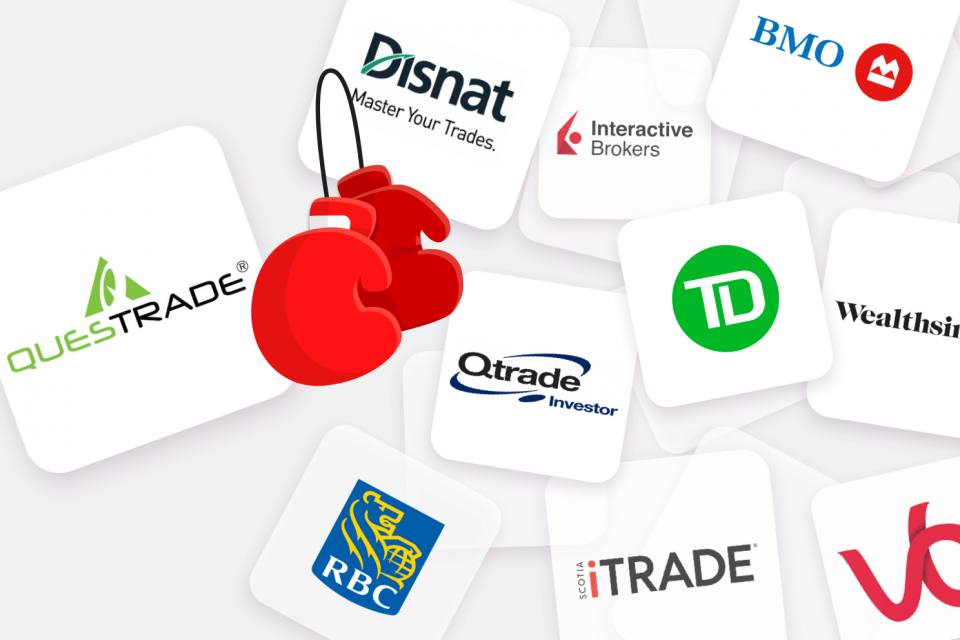 Still trying to choose between Questrade versus another trading app?
Look at these RedFlagDeals and Twitter polls of top Canadian brokerage. Questrade is #1 in all 3 polls. More people like Questrade… but why?
Questrade is the most popular Canadian online brokerage, an independent company recommended by thousands of online reviews and real users. They offer TFSA, RRSP, Margin and the most popular investment accounts at a low fee.
They lead the market in Canada. They were the first of the top Canadian brokerages to allow holding US Dollars in registered accounts.
Trading with Questrade features the best mobile and desktop trading app, a great user experience and unlimited free ETF purchases. I rarely have to contact them, but when I did, I used the live chat and had quick, real-time answers to my questions. You can read our Questrade Review: Pros & Cons of Trading with Questrade Canada (2019) if you are interested specifically about Questrade and trading with them.
Beside the low fee and usual trading functionalities, one of my favourite Questrade feature is the App Hub that allows integration with third-party apps like Wealthica which provides enhanced reporting and automation features.
I work at Wealthica, a consolidated portfolio tracker for Canadian investors.
Thanks to Wealthica, we have our own accounts at each of the top Canadian brokerages and had the chance of logging into the different trading apps. I decided to write a Questrade vs the Others review to let people know why, in my case (and many others), Questrade is the winner. They will also transfer you for free.
Let's start…
Questrade vs Other Brokerages = 🏆
---
Affiliate Disclaimer – Even though we receive referral fees from companies mentioned on this website, we try to make our reviews unbiased and backed by our own experience and social proof. If you sign up for Questrade using our affiliate link or Wealthsimple affiliate link, we may earn a commission. We will use most of the revenues to make Stockchase and Wealthica better. Your support helps and we genuinely appreciate it. If you don't want to use it, here's a non-affiliate link to Questrade and a non-affiliate link to Wealthsimple Trade. Either way we truly believe that they're the best brokerage available in Canada and that you'll be happy with them. Do your research on Google, Reddit and Facebook groups and you'll find most people say the same.
The Stock Chasers' Best Canadian Brokerage Awards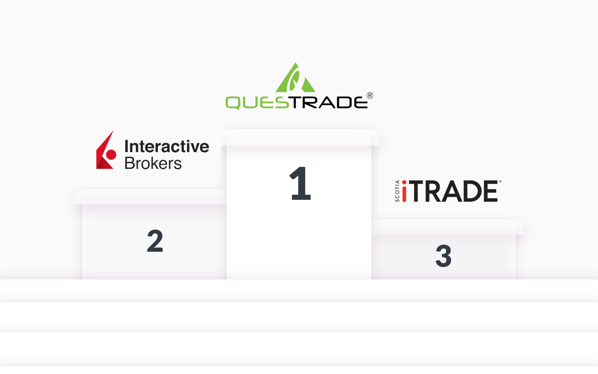 We spent more than 150 hours analyzing the Top 10 Canadian Brokerages to choose our 3 winners. We logged into most of the Canadian Brokerage trading apps and compared the Canadian brokerages' web trading app, mobile app, features and usability, social feedback and low fees. And the winner is…
🏆 Questrade – Best of All Canadian Brokerages
🏆 Interactive Brokers – Best for Frequent and Advanced Traders
🏆 Scotia iTrade – Best Big Bank-Owned Brokerage
January 2021 Update
We still maintain our ranking, but there are now definitely not 3 but 4 Canadian Brokerages that stand out. Wealthsimple has been keeping the pace, adding new features regularly. If it wasn't for the lack of a real US account, it would be near the top of our ranking. It even launched Wealthsimple Crypto, which allows you to buy & Sell Bitcoin & Ethereum easily.
Read our full Wealthsimple Trade Review and you might consider signing up for Wealthsimple Trade . Get a $10 cash bonus and commission-free trades when you open a Wealthsimple Trade or Crypto account using our special link!
As of January 18, 2021 Questrade pre-market trading hours will begin at 7 am EST so you can get a head start on your trading day. This gives another edge to Questrade that was an advantage that Interactive Broker had before. Previous Update
One more reason to choose Questrade is that the broker will no longer be charging inactivity fees on any accounts. Fierce competition, especially from Wealthsimple Trade, is helping lowering fees at other brokerages like Questrade. This is great news for the ETF or Canadian Couch Potato Investor that does not trade so often. We updated our Questrade Review accordingly.
We maintain our ranking for the time being, but Wealthsimple Trade is quickly climbing up the ranking. In general, commission-free trading is challenging the most popular online brokerage. Wealthsimple Trade recently added support for TFSA, RRSP and made its API available for integration with Wealthica. Interactive Brokers also launched a commission-free trading option it calls IBKR Lite available only for US listed stocks. Questrade does offer unlimited commission-free ETF trading but commissions still apply to stocks listed on Canadian and US stock exchanges.
These are the 3 Canadian Brokerages that stand out. They're the best brokerage available in Canada. We prefer Questrade, but rest assured you'll be happy trading with any of our 3 winners : Questrade, Interactive Brokers and Scotia iTrade.
Commission-Free Brokerages
Commission-free brokerages have been ubiquitous lately. In the USA, Robinhood is the clear leader of the commission-free trading world, but there's no Robinhood here in Canada.
Rest assured, we have our own option. Wealthsimple Trade is still leading the way and pushing its competitors against the wall. Questrade revamped its apps recently in order to try to counter Wealthsimple. It also announced different fee reduction measures (real-time quotes, no more inactivity fee, etc.) but Wealthsimple keeps the lead in the category. If you are looking for a basic, mostly Canadian stock or ETF portfolio, Wealthsimple is clearly the best option when it comes to zero transaction fees.
But there is also the National Bank Direct Brokerage and Disnat.
We will talk about them all and you can be the judge of what would best satisfy your needs…
Bear in mind, however, that commission-free brokerages do make money from spreads and exchange rates. But if you're very active and trade in large volumes, it may be worth it.
Let's take a look at them, one by one…
Questrade vs Wealthsimple Trade
Wealthsimple Trade
No-fee CAD trades
Mobile Trading App
9.8/10
Features & Usability
6.5/10
Pros
(TRADE WINS) No-fee CAD stock trades
(TRADE WINS) Modern mobile app
Cons
(QUESTRADE WINS) No USD Accounts
(QUESTRADE WINS) High USD fee
(QUESTRADE WINS) Stocks availability
(QUESTRADE WINS) No TFSA or RRSP
(QUESTRADE WINS) DRIP not supported
Update (January 2021) : Added a Web App
Update (July 2020) : Added DRIPs not supported as cons.
Update (October 2019) : Wealthsimple Trade now supports RRSP.
Update (September 2019) : Wealthsimple Trade now supported at Wealthica though API.
Update (July 2019) : Wealthsimple Trade now supports TFSA.
Update (March 2019) : Wealthsimple Trade is now open to everyone.
✅Questrade wins for low USD conversion fee (using Norbert's Gambit)
✅Questrade wins for offering USD and More Registered accounts (RESP, RRSP, etc.)
☑️Wealthsimple wins over Questrade for No-Fee Canadian Stock Trading
Wealthsimple Trade is quickly establishing itself as a serious contender to Questrade.
It recently added a Web App and launched Wealthsimple Crypto which allows investor to easily buy Bitcoin or Ethereum.
Wealthsimple's investing service is well known as a robo-advisor (building an ETF portfolio and rebalancing it for you). It recently launched a beta version of Wealthsimple Trade as a new service that competes with Questrade.
The Canadian alternative to Robin Hood
Wealthsimple Trade is meant to be an alternative to the very popular Robin Hood App, which offers commission-free stock trading in the USA.
Robin Hood is not available in Canada, but now there's an alternative, as Wealthsimple Trade offers commission-free Canadian stock trading.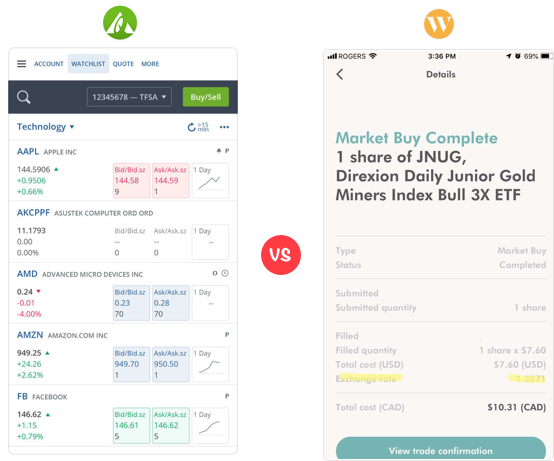 Screenshot of Wealthsimple Trade from Café des Investisseurs (French)
How can Questrade compete with free trading?
Wealthsimple Trade has to make money somehow.
Wealthsimple Trade Cons 👎
Mobile app only

No USD accounts, expensive currency conversions
Lacks some types of registered accounts.

No API yet (Wealthsimple has it but Trade not yet)

Cash accounts only, no margin
Ends up more expensive if you buy & sell US stocks
There might be a delay in trade execution
Not all Canadian and US securities are available to trade
DRIPs not supported
As they state on their own web site: "Wealthsimple Trades makes money on currency exchanges for US trades, and they plan on launching premium features in the future that will carry fees." In fact, Wealthsimple Trade does not allow one to hold USD in your accounts. This means that a currency conversion occurs each time you want to buy or sell a US stock (and you pay a commission each time).
One big drawback, you can't hold USD in your accounts; neither can you use Norbert Gambit to convert CAD to USD. And, as @DrDohDay mentioned on Reddit, Wealthsimple Trade lacks support for DRIP/fractional shares.
Wealthsimple Trade ends up significantly more expensive (social proof)
Here are a few comments posted on Reddit going in the same direction…



There are also reports that not all Canadian and US securities are available to trade on Wealthsimple. When we asked why we couldn't trade Sonos or even Disney, this is what they answered :
With regards to SONOS, we don't currently support all stocks trading on the NYSE or TSE as they need to meet the requirements I've linked below. A big requirement that a lot of bigger stocks like SONOS or DISNEY fail to meet is being eligible to be traded through CDS, which is the service our back-end uses to actually make the trades. — Wealthsimple Trade
Now available to all Canadians
Wealthsimple trade is currently available on a limited basis to users on a waitlist only. We have one active account, and we've requested another. We're currently #59,871 on the waitlist. We'll be testing the service further and will update our comparison with Questrade when we have more details about how Wealthsimple Trade compares. Wealthsimple trade is now open to everyone. As we noted earlier, we think it's a good addition in your DIY investing arsenal.
Wealthsimple Trade Pros 👍
It's free
It now supports TFSA and RRSP accounts
It now syncs with Wealthica through API
Great if you are buying and holding Canadian stocks only
Great if you'd like to buy crypto
Great as a complement to a full-featured Questrade brokerage account
Today, Trade now looks like a nice an essential complement to a full-featured Questrade brokerage account vs a complete trading account replacement.
$10 Cash Bonus Offer
We invite you to sign up for a free Wealthsimple Trade and Crypto account. You'll even get a $10 cash bonus and commission-free trades when you open a Wealthsimple Trade or Crypto account using our special link!
Verified personally: Simon holds an active Wealthsimple Trade account.
National Bank Direct Brokerage
National Bank has recently put lots of efforts on its Direct Brokerage service.
They don't lag so much anymore. When we first reviewed National Bank Direct Brokerage in 2018, it wasn't even offering paperless signup. Clients had to bring a printed form to a branch to complete account opening.  They jumped into the self-directed brokerage wagon and are now trying to position among the top options. We will complete a thorough review soon.
NBDB IS NOW COMMISSIONS-FREE
We would probably consider it as a viable option if we were banking with National Bank
Questrade vs Disnat (Desjardins Online Brokerage)
✅Questrade wins over Disnat for bank/deposit integration
✅Questrade wins over Disnat for user experience
☑️Disnat wins over Questrade for fees
NOW COMMISSION-FREE
So good at banking but bad at trading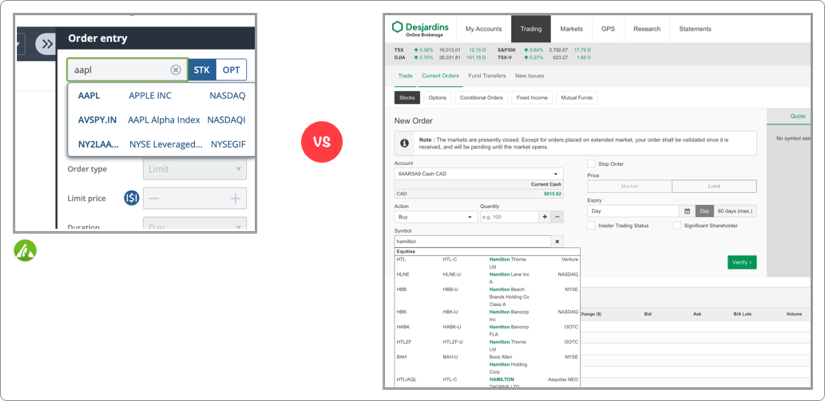 Disnat now offers commission-free trading.
I opened my Disnat account in 2011, it was my first brokerage account, to buy some Apple stock. It gave me a pretty good return. 😊
These days I should close it to avoid the $30.00 inactivity fee :

Note that Inactivity fees are waived if: 6 or more tradeshave been executed in the preceding 12 months, if the value of the portfolio is $15,000 or more or if a registered account (RRSP, RRIF, RESP) is held.
Disnat Transactions Tracked with Wealthica
I love Desjardins's banking site (AccessD) and I wonder why they are so bad at trading and wealth management when they are so good at banking.
No banking integration
I searched for a while but did not find any advantage for Desjardins banking clients to trade with Disnat vs Questrade.
Using Disnat you're in for many frustrations.
The app is well laid out but some listings are hidden under expandable accordion ui elements which makes it hard to navigate. It's definetly a pain to browse your holdings. And even after 15 minutes of intense browsing, I haven't figured out how I am supposed to transfer funds.
I have yet to find a link with instructions for fund transfers. It seems my bank account isn't registered so there's no option to send funds. 🤷
Funds transfers with Disnat seems problematic in general (Reddit comment) :

User interface is somehow similar to Qtrade, a bit clunky and not feature rich.
No 2-factor authentication
In term of security, it seems Disnat doesn't even support 2-factor authentication yet. That's when you need to authorize new devices with a 2nd level of security (a code sent to your phone or an authentication app). 2fa is an essential trading security feature and available at most financial institutions.
Effective mobile trading app
On the positive side : one thumb up to the Disnat mobile app. 👍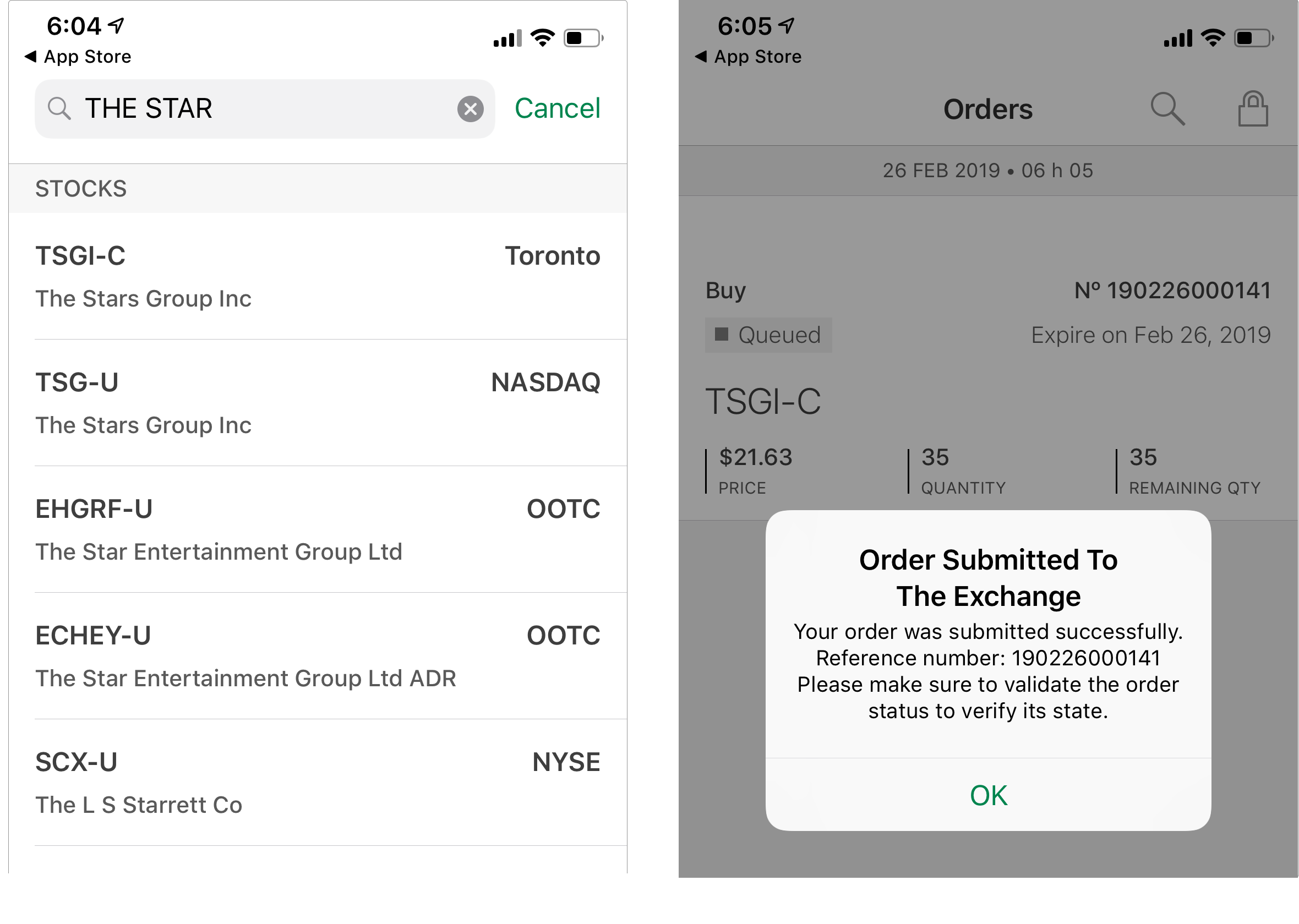 It's 100X better than BMO's or RBC's. It's nice and easy to use, supports Touch ID / Face ID for authentication and it works. It has limited features and has only been updated with small fixes in the last 2 years+ but still it's a decent mobile app to buy & sell stocks.
Fees are similar to big banks-owned brokerage and there is no possibility to buy ETFs for free. After looking further into Desjardins (Disnat) Online Brokerage, Questrade is still my #1 brokerage.
Verified personally: Martin holds an inactive trading account.
Questrade vs Virtual Brokers
Virtual Brokers
$0.01 per share
Mobile Trading App
5.0/10
Features & Usability
7.0/10
Pros
(VB WINS) Buying Mutual Funds
(VB WINS) New lower fees
Cons
(QUESTRADE WINS) Worst Apps
(QUESTRADE WINS) Worst Support
(QUESTRADE WINS) No Norbert's Gambit
(QUESTRADE WINS) Serious usability problems
✅Questrade wins over Virtual Brokers for overall user experience
✅Questrade wins over Virtual Brokers for customer support & live chat
☑️Virtual Brokers wins over Questrade when buying mutual funds
Top 10 Canadian Brokerages
We reviewed the Top 10 Canadian Brokerages and gave them a score out of 10.
You can jump to the full review of any of the Top Canadian Brokerages : Questrade, Interactive Brokers, Scotia iTrade, TD Webbroker, Wealthsimple Trade, Qtrade Investor, RBC Direct Investing, BMO Investorline, Desjardins Disnat or Virtual Brokers.
Questrade vs The Others (RedFlagDeals & Twitter Polls)
There are a whole bunch of Canadian online broker reviews and comparisons online. It's hard to figure out which one is biased and which one is not. Many of these reviews and comparison posts are written by people that have never logged-in to any other trading app than Questrade. They're meant to promote Questrade's $50 free-trades offer (like our own affiliate link to Questrade).
Sometimes, I even ask myself if they ever login to Questrade.
You also have big medias' most popular Canadian Brokerage Reviews.
Moneysense (recently sold to RateHub by Rogers) has got the #1, #2 and #3 spots on Google for a "Brokerage Comparison Canada" search. They produce tons of high quality content. Yet, they rank Qtrade as the #1 brokerage in Canada. What? Qtrade is not bad, but the best in Canada? Clearly not. As of 2019, Moneysense now ranks Questrade as #1 brokerage in Canada. We're now on the same page. 👍
The Globe and Mail has Virtual Brokers as #1 Brokerage (on par with TD) in the latest The Global and Mail Online Brokerage Ranking Award for 2019. As much as I respect Rob Carrick, Virtual Brokers has one of the worst trading app of all Canadian brokers; they also have one of the worst customer service.
Most popular Canadian brokerage – backed by social proof
What's wrong with these rankings? 🤔
My personal opinion is that they are not backed by real user feedback or they focus on the users' own appreciation of their brokerage. If you're happy with your trading account and someone asks you if it's the best, you'll probably answer that it is. But is it really? Hard to know if you haven't compared.
The most popular online reviews don't showcase screenshots of the different online trading apps. If your trading experience will be 100% inside a trading app, shouldn't you be able to see what it looks like before choosing your preferred online brokerage? Maybe the overall user experience should have more weight vs who offers the most reporting features.
Our Canadian Brokerage Review is different.
We logged into most of the Canadian Brokerage trading apps, we ran a few trades and took many screenshots. Our comparison focuses on providing you with facts, screenshots of the trading apps and our opinion about the app with additional social proof by real users (comments you can find on social medias) to back our statements.
We're not hiding our bias. We too want you to use our link to open an account at Questrade (and get your $50 in free-trades coupon), but we worked hard to earn your trust and clicks on our affiliate link by proving Questrade is the #1 Canadian Brokerage with extended research and true facts.
Questrade #1 in RedFlagDeals and Twitter Polls
Here are RedFlagDeals polls taken by the RedFlagDeals Personal Finance / Investing forums community. Questrade was #1 in both most preferred and most popular brokerage polls. Over 100 people, who are knowledgeable, voted for their favourite trading apps. TD Webbroker was 2nd for most popular, Interactive Brokers was 2nd for preferred.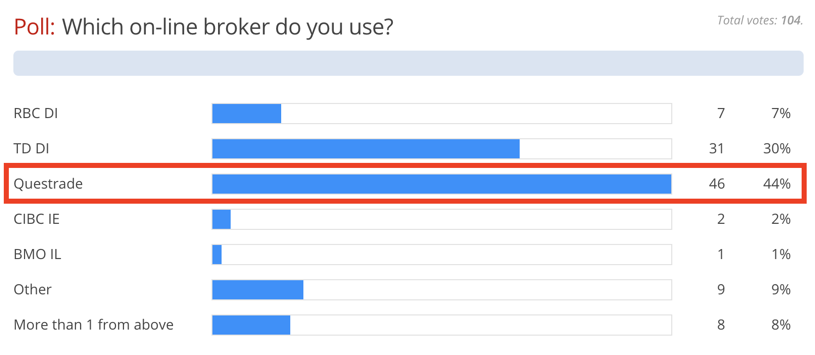 Most popular online brokerage poll on RedFlagDeals.

Preferred online brokerage poll on RedFlagDeals.
Questrade wins again in another poll taken by 310 voters about best charting…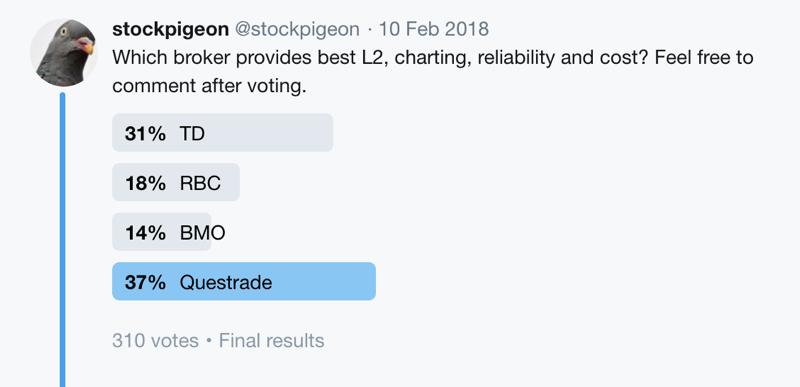 Best L2 charting poll on Twitter.
Best overall Canadian brokerage
Most Questrade competitors also have their own strengths, and some might beat Questrade when it comes to specific categories. We'll go into details about how Questrade compares to each of the Top Canadian Brokerages below, but we honestly believe Questrade wins overall.
Questrade vs Qtrade Investor
Qtrade Investor
$8.75 per trade
Mobile Trading App
7.5/10
Features & Usability
8.0/10
Pros
(QTRADE WINS) Market data
(QTRADE WINS) Customer support
Cons
(QUESTRADE WINS) Fees
(QUESTRADE WINS) Clunky Mobile App
(QUESTRADE WINS) Outdated Web App
(QUESTRADE WINS) Limited free ETFs (100)
✅Questrade wins over Qtrade for lowest fees
✅Questrade wins over Qtrade for its user friendly and modern user interface
☑️Qtrade wins over Questrade when it comes to Customer Service
Qtrade is not Questrade

Some numbers are hidden intentionally
Qtrade is often the last contestant against Questrade when it's time to choose where to open your brokerage account. It seems that both are very good online brokerage options. But does Qtrade really wins over Questrade?

I'm baffled that Qtrade won Moneysense's Canada's Best Online Brokers 2018.
Beyond the surveys and numbers, who is the #1 Canadian Brokerage depends on how you evaluate the brokerages and what is most important for you.
If you login into both Qtrade and Questrade you quickly notice that Qtrade comes short when it comes to overall usability of their trading apps. It's well laid out. But it lacks in term of ease of use and features.
I understand that the user interface experience is not the only criteria reviews are based on, but you use a brokerage to buy and sell stocks first.
The quality and usability of the trading app is the most important for me.

We are biased towards Questrade and clearly state it. Still we honestly believe they are the best. Moneysense seems biased towards Qtrade without admitting it.
In Moneysense's 2017 Best Online Brokers, Questrade was Top Pick in 4 of 7 review categories! Yet, Qtrade got the best overall brokerage award. In 2018, according to Moneysense, Qtrade won over Questrade by just 1 point. If you'd give more weight to some of the most important review categories (like user experience), Questrade would win hands down. Note, Qtrade is not even mentioned explicitly in RedFlagDeals polls, it's hidden inside the option for other brokerages.
Should better Market Data Integration give Qtrade the win when you can use online market data from Google or Tradingview for free?
I have my theory about why Qtrade Investor is viewed as a good alternative to Questrade in general. People sometimes confuse Qtrade with Questrade. They are not the same. Take a look at a few social comments…



Could Qtrade benefit from Questrade's good reputation? Maybe.
Qtrade is overrated.
Qtrade lags behind (social proof)


Its user interface looks like it got stuck a few years ago. It has a sober white and gray look that hasn't stood the test of time. It's not as ugly as Virtual Brokers' but it's definitely not appealing and doesn't work as well as Questrade's.
To be fair, Qtrade is far from being the worst Canadian brokerage available. We rank Qtrade #5 on our own Best Canadian Brokerage Ranking. Mostly because of the lack of features on its trading app. If you want something minimal and don't trade that often, then it might be an acceptable fit for you. Still there are lower fees and better Canadian online brokerages available.
Using Qtrade's web trading app
I tested Qtrade using Simon's test account and tried one simple stock lookup :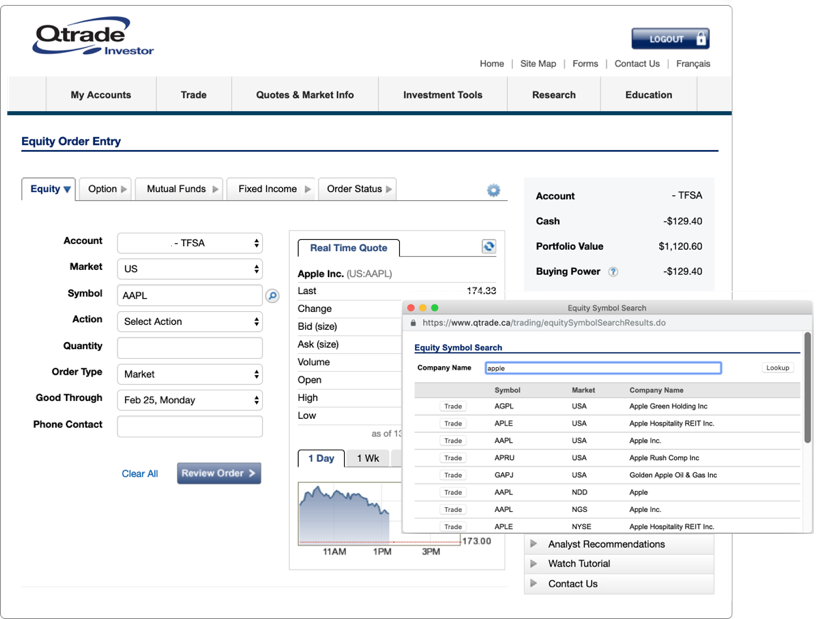 The stock lookup feature opened an unfriendly, out of context popup window where I searched for Apple. Then I clicked trade and it filled the order entry form with the selected stock information. You can see on the screenshot above both the popup window and the order entry form.
The same operation on Questrade offers a much better user experience: You write "Apple" in the order entry form, it automatically shows you the matches, you select AAPL and you're ready to trade. Stock lookups are automatic and straightforward on Questrade. You also have access to your balances, positions, orders, executions and activity while you fill the order entry form.
Qtrade's user interface is more in line with big banks-owned brokerages, similar to Disnat's or somehow also to TD Webbroker. It lags behind Questrade, Interactive Brokers, TD Webbroker or even Scotia iTrade.
Using Qtrade's mobile trading app
It's similar on mobile. Qtrade's app isn't polished.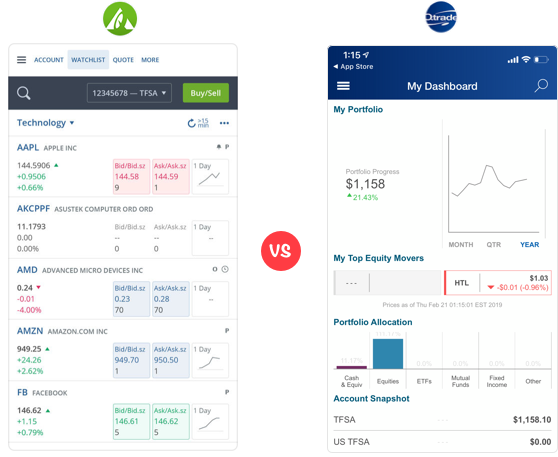 On Reddit, some users call it clunky…


If a clunky user interface isn't enough to convince you that Questrade is better, maybe lower fees will. Questrade has a clear advantage over Qtrade when it comes to trading fees and commissions.
Qtrade fees
At Qtrade, basic trading fee is $8.95 and there's an annual fee unless you have at least $25,000 in your accounts. Qtrade also limits commission-free ETF trades to 100 eligible ETFs vs unlimited at Questrade. I also favour Questrade's DIY investing approach with online community resources for help.
Qtrade does have its strengths.
We did not experience it ourselves, but according to most online reviews, Qtrade beats Questrade on customer service and market data. I have always been happy with my interactions with Questrade's support desk (and live chat) but I guess it's always possible to do better.
Verified personally: Simon holds an active Qtrade account.
Questrade vs Interactive Brokers
Interactive Brokers
$0.005/share
Mobile Trading App
8.8/10
Features & Usability
8.0/10
Pros
(IB WINS) Advanced Trading Features
(IB WINS) Tons of Customized Reports
(IB WINS) Low Currency Conversion Fee
Cons
(QUESTRADE WINS) Annual Fee
(QUESTRADE WINS) Overall Complexity
(QUESTRADE WINS) Data fees
(QUESTRADE WINS) Limited free ETFs (48)
[QUESTRADE WINS] Steep Learning Curve
✅Questrade wins for no annual fee (beware of IB's monthly fees)
✅Questrade wins for simplicity (IB makes everything overly complicated)
☑️IB offers tons of customized reports and advanced traders features
Fee-structured for frequent traders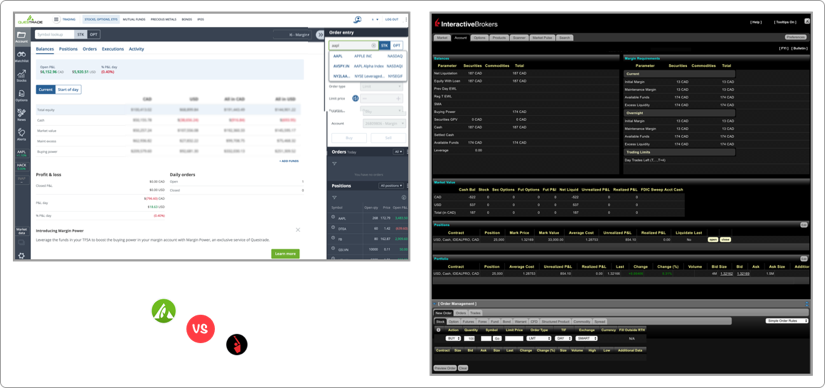 Interactive Brokers wins the best brokerage for advanced trader award. 🏆
Interactive Brokers offers an attractive fee structure if you trade frequently and above the monthly minimum. It also handles currency conversions at a very interesting fee: 1 basis point (0.01%) + $2.50 USD. No need to bother with Norbert's Gambit at IB. But, even if Interactive Brokers fees might seem lower at first, be aware of IB's monthly fee.
This is how the monthly fee shows on my Interactive Brokers account :

Interactive Brokers Transactions Tracked with Wealthica
You must trade a minimum of $10 a month in commissions at Interactive Brokers. Even worst, accounts with an equity balance of $2000 or less must meet minimum trade commissions of $20. Remember Questrade doesn't have annual fees and recently dropped the inactivity fee.

Complex yet powerful user interface
Questrade's control panel, authentication, trading desk and account portal are all easier and faster to use. IB is a pain to log into and then you need many clicks to find options. There are too many options available; powerful but cumbersome. It appeals more to advanced and frequent traders.
Interactive Brokers is powerful yet overly complicated.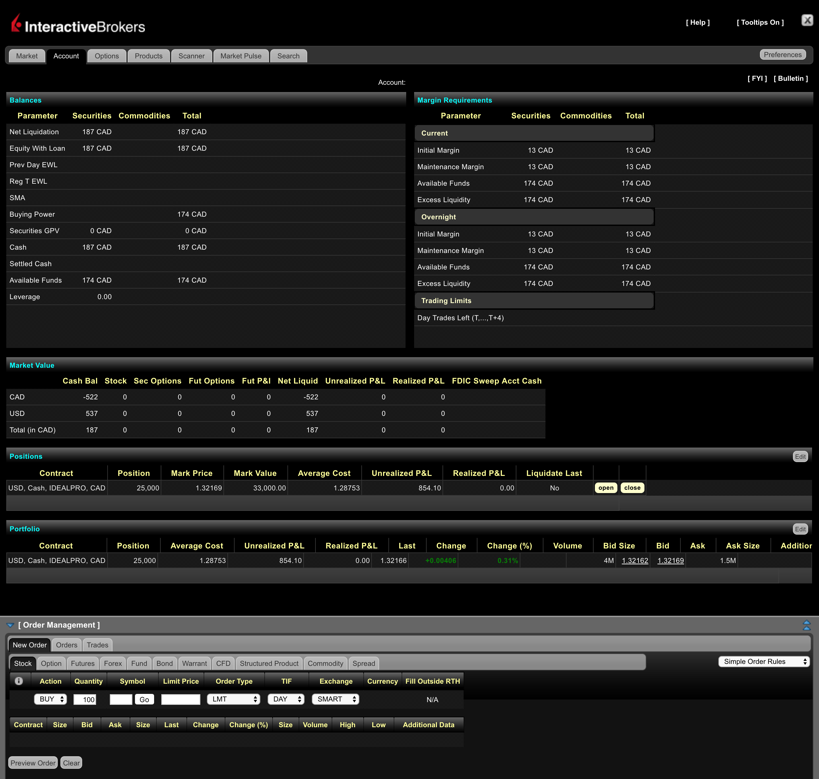 Looking at the screenshot above, we can feel IB's complexity.
As a quick example, to login to Questrade is pretty straightforward: you find the login link on the home page, you click the link and login. Once you are inside, you click the "Trade" button to go to the Trading App.
The same process at Interactive Brokers involves clicking on a Login dropdown menu and figuring out which of the 9 login options is the one you want.
Once you find the good login link, you need to choose between live or paper trading, authenticate with a special IB-only app (IBKey) and then you finally get to the trading app. It's not possible to switch between the Account Management and Trading App without re-authenticating.
The same complexity and mentality is applied all over IB's Apps. I prefer the simplicity and better user interface of Questrade Apps.
I am not alone thinking IB is complex…



Verified personally: Martin holds an active Interactive Brokers trading account.
Interactive Brokers' strength is definitely with frequent traders. Even advanced traders find it complex. Questrade is a brokerage that fits the needs of most DIY investors.
Frustrating trading app user experience
Another brokerage that looks like it got stuck in the year 2002.
Quick reminder, it's 2019 as I'm writing this and the iMac G4 they use as an icon is 17 years old. No need to write more. Let's look at it :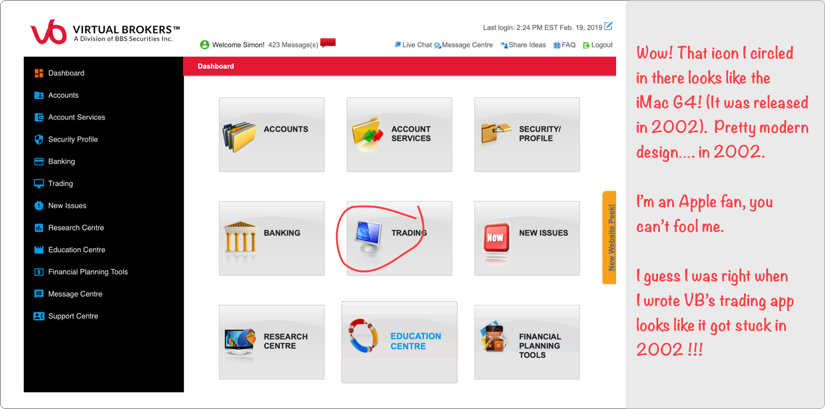 Is this the real Virtual Broker trading app? Yes it is.
I guess iPhone's didn't exist when they last updated it. It's pretty awful and clearly hasn't been redesigned since 2002. But wait, there's hope…
Did you notice there's a new website peek link in there? It seems they have a new version of the trading app. Let's give it a try :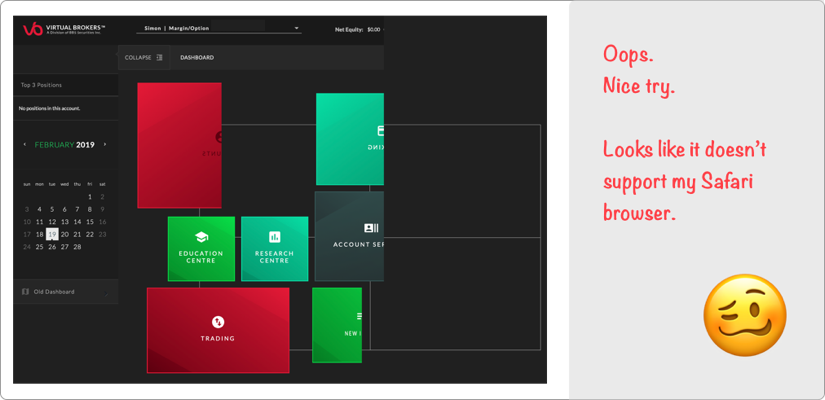 Let's try again with another browser. VB doesn't like Safari.
You don't see it on my screenshot, but the tiles are animated in Safari, they open and close. When I click some links, some other parts of the website disappear! Let's say it's funny (for me, I guess it's not funny for Virtual Brokers). Okay, now let's give it another try using the Chrome browser.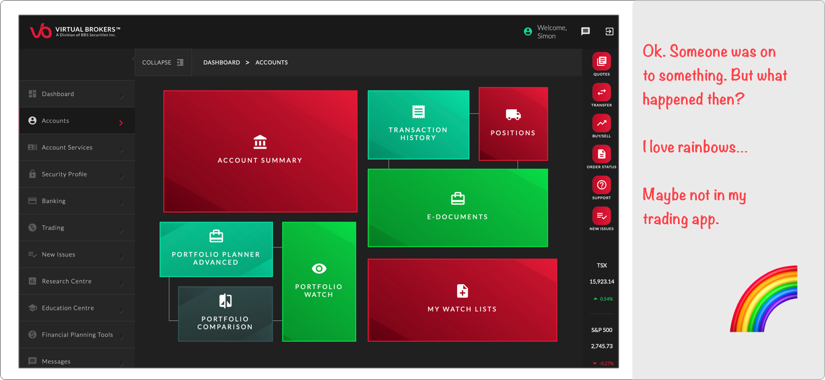 It still has some kind of weird animation. Seriously, someone should get fired. Let's give it one last try and load VB Web Trader. It's better. At least it seems to work. But on the new website, the web trader app loads inside the general frame which makes it hard to navigate. It also has a pretty cumbersome gadget board with old icons. Sorry, I really don't like it.
Let's stick to loading web trader from the default interface: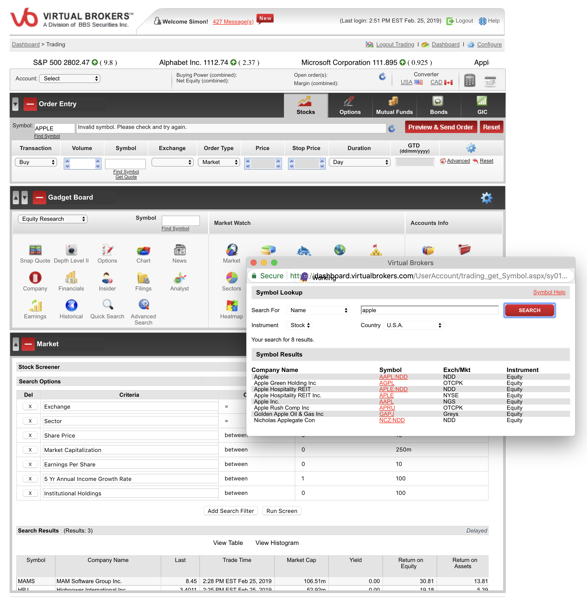 I'm trying to be objective here. This last screenshot doesn't look as awful as the previous ones, but using it is painful.
On the screenshot above, you can see the same stock lookup we tested on Qtrade. There's a similar pop up window to search for stocks, but in this case it won't search for stocks in any country. You need to select the country you want to search in. There are so many things in this interface.
It is as expensive as big-bank owned brokerages plus you get worst trading apps. Virtual Brokers recently lowered their fees a lot, they went back to their former fee structure. They can't compete with app quality so they might as well try to beat the competition with lower fees.
There are so many different interfaces: the default, the new interface accessible using the website peek link, the web trader default, the web trader light and the desktop trading platform called Wave.
Would you really trust Virtual Brokers with your money? It's not reassuring to see so many bugs and problems loading the trading app.
Worst interface and worst support (social proof)
Here's some people on Reddit who think like me about VB's trading app…


And someone that experienced their bad support (but likes the platform)…

I experienced the support myself. It wasn't so bad, I had short but accurate answers. One weird thing though, is they moved my account to delayed 15 minutes stocks stating I had been deemed to be pro. PRO means that I work for an IIROC member. I do not. Maybe they don't like my reviews. 😂
Maybe it's better on mobile?
It does not get better on mobile. Virtual Brokers' mobile trading app is ugly and doesn't seems to work very well. It gets a 1 star rating on the App Store.
What about the fees at Virtual Brokers?
I'd prefer paying higher fees than using such a bad trading app.
Virtual Brokers recently lowered its fees to be more in line with Questrade's fee structure and just a few weeks ago went back to their old $0.01 per share (min $1.99 – max $7.99) fee structure. Still, they charge a $15 quarterly fee PER REGISTERED USD account and a $25 yearly fee for RESP.
They have an inactivity fee, which Questrade recently dropped, they call it maintenance fee, of $25 which can be waived if you do a least one trade per quarter, you are under the age of 26 or have at least $5000 across all your accounts.
They don't seem to allow for Norbert's Gambit to convert CAD to USD according to some Reddit comments. This can make it expensive to buy US stocks as you have to pay a commission to convert CAD to USD at Virtual Brokers.

Low fees but poor trading apps and support
Why pay more for a poor trading app when Questrade has lower fees and great web, desktop and mobile trading apps?
Am I being unfair to Virtual Brokers?
Maybe I missed something, especially considering that The Globe and Mail named it #1 Brokerage in its latest The Globe and Mail Online Brokerage Ranking Award for 2019. I really don't understand how VB could be #1 on any ranking.
If you currently use VB as your brokerage and you do not agree with me, please share your comments below and tell me why you like Virtual Brokers.
Verified personally: Simon holds an active Virtual Brokers trading account.
Big Bank-Owned Brokerage
✅Questrade wins over Big Banks for lowest fees ✅Questrade wins over Big Banks for usability, apps & features ☑️Big Banks win over Questrade for brokerage/banking integration
In general the big bank-owned brokerage lag behind the independent brokerages.
The one and most important advantage of using the big-banks-owned brokerage is having all your investments and banking under the same roof. It makes it easier and faster to transfer funds. It is also probably easier to start investing with an institution you already have a relation with.

I went with my bank's brokerage myself when I opened my first brokerage account in 2011. I bank with Desjardins and opened an account with Disnat to buy Apple stocks. I never bought any other stock at Disnat, I quickly went searching for a better brokerage and better user interface and moved to Questrade.
You are concerned about dealing with multiple financial institutions?
Wait, there's Wealthica.
You can use Wealthica to view all your investments in one place.
Wealthica is available as a web or mobile app and links all your investment accounts into a single dashboard and assigns accounts to family members or group them into entities. Wealthica can also generate a capital gain report which comes handy when time tax comes. Or, if you like spreadsheets, you can automatically export your consolidated holdings and transactions into Google Spreadsheet.
Using Wealthica, I don't see why you would still want to use your bank's brokerage to trade stocks. It's available as a third-party app within Questrade's App Hub.
Questrade vs TD Direct Investing (Webbroker)
TD Direct Investing
$9.99 per trade
Mobile Trading App
8.5/10
Features & Usability
8.0/10
Pros
(TD WINS) Banking Integration
(TD WINS) Free e-series funds
Cons
(QUESTRADE WINS) Fees
(QUESTRADE WINS) Live chat support
(QUESTRADE WINS) Mobile App
(QUESTRADE WINS) No Free ETFs
✅Questrade wins over TD Webbroker for lowest fees
✅Questrade wins over TD Webbroker for live chat support and online community
☑️TD wins over Questrade for seamless brokerage/banking integration
Average big bank-owned brokerage fees and support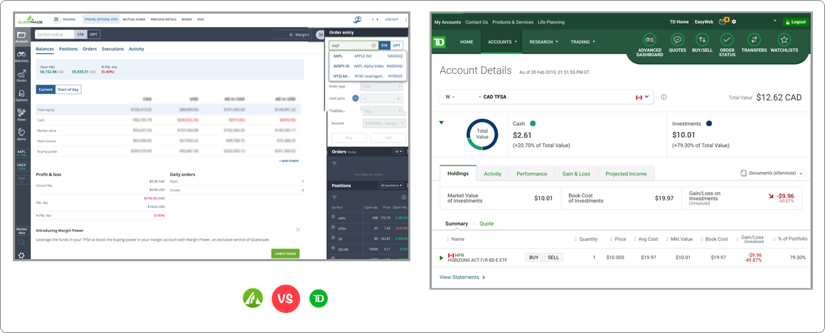 As most big bank-owned brokerages, TD has a $9.99 per trade basic fee. It does not offer any free ETFs trading incentives. Commission and fee structure at TD is average. Customer service is also average if you compare with Questrade where you can get in touch with someone quick on live chat during business hours.
Here's what happens sometimes when you deal with a big bank…

Nobody likes when the bank tells you to come in to a branch.
No free ETFs purchases but free e-series index funds
TD does not offer free ETFs trading but offers the e-series index funds users can trade for free. The Canadian Couch Potato has a model portfolio built from four e-series funds. In the case where you are banking with TD, you are into index investing and you prefer using the e-series portfolio over ETFs. In this case, TD looks like a good option.

Effective trading apps
TD's trading app is surprisingly effective for a big bank-owned brokerage…
It's nice and well organized.
Thank you TD, at last one Questrade competitor that has inline search for stocks and no ugly popup window! Not even Qtrade, has that basic feature. 👏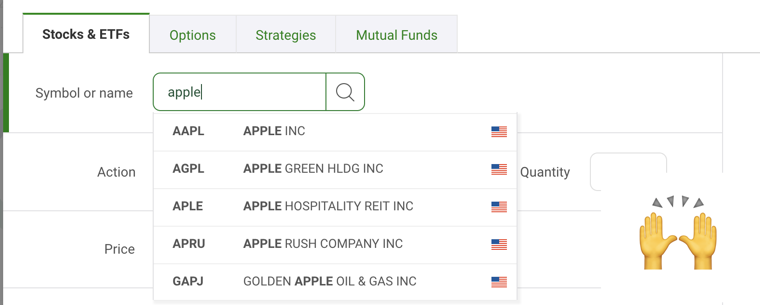 Inline search allows you to quickly find a stock within the buy & sell page. You can enter part of a company name OR symbol and it will show you the matching public companies on any Canadian or US stock market.
Big bank-owned trading fee structure
TD customers usually like Webbroker. What turns them off is the fee.
Some say you shouldn't trade with TD unless you buy higher than $5000 per trade in stocks because the fee is too high for lower trades:


As the Reddit user above mentions, Questrade is probably the better option for you but if you are going to be disciplined, then TD could work also. Everybody moves to Questrade for low fees but you should also consider free ETFs purchase, live chat help and online community.
Verified personally: Simon holds an active TD Webbroker account.
Questrade vs RBC Direct Investing
RBD Direct Investing
$9.95 per trade
Mobile Trading App
6.5/10
Features & Usability
6.5/10
Pros
(RBC WINS) Banking Integration
Cons
(QUESTRADE WINS) Not paperless
(QUESTRADE WINS) User experience
(QUESTRADE WINS) Clunky Web App
(QUESTRADE WINS) Clunky Mobile App
(QUESTRADE WINS) Fees
(QUESTRADE WINS) No Free ETFs
✅Questrade wins over RBC Direct Investing for paperless account opening
✅Questrade wins over RBC Direct Investing for overall user experience
☑️RBC Direct Investing wins over Questrade for banking integration
Lagging trading app updates
RBC Direct Investing is another brokerage that looks like it hasn't been updated in a while. Why pack so many options in a dropdown menu? Or have a homepage with so many tiles when you probably just click the "My Portfolio" link at the top.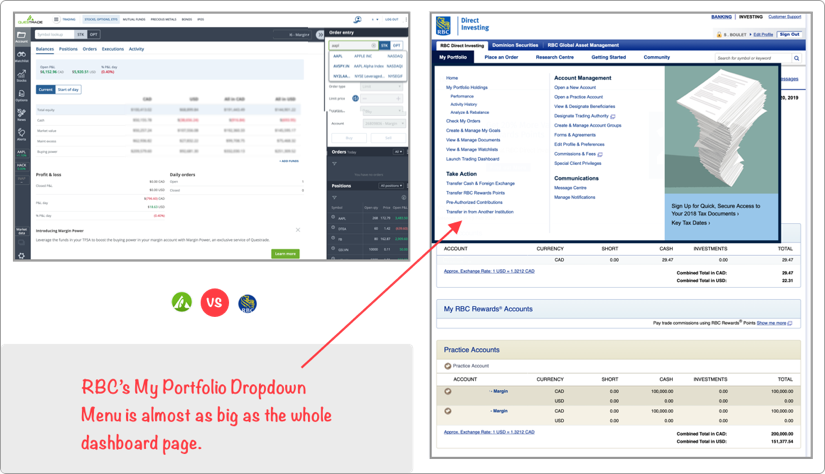 The user interface lacks context and as I experienced with BMO and Qtrade, the default stock order interface makes it hard to lookup stocks. You need to know or copy-paste the symbol and there's no inline search for a company.
It gets better if you use the trading dashboard (even though it opens in a new window and not one of my browsers' tabs). I'm not sure why this is not the default. :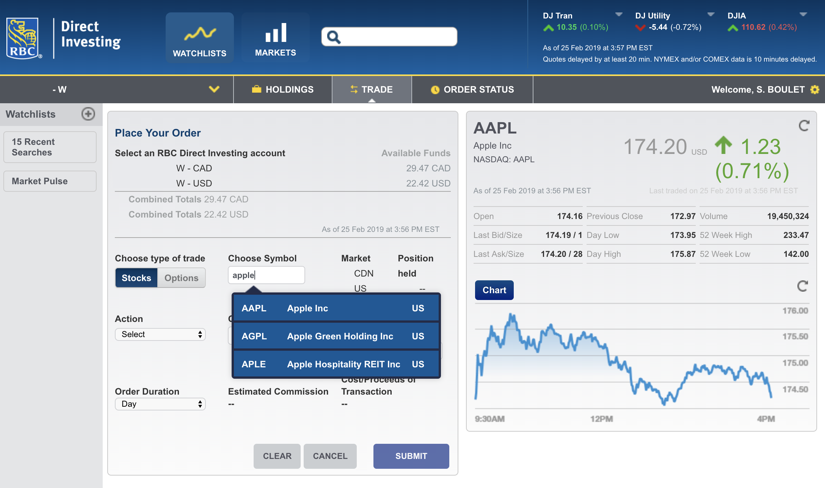 RBC Direct Brokerage's dashboard also shows annoying advertisement for other RBC products within the trading app.
Another thing I do not like about RBC Direct Investing is the trading app mixes practice accounts with the real trading accounts. It's pretty confusing. For any trading operation you want to run you have to select the appropriate account from the account list, but it lists all your accounts including the practice accounts. Practice and live trading accounts are usually not mixed together in most trading apps.
Mobile app is 5 years behind
On mobile, RBC does not have a dedicated investing app. There's a Direct Investing login available within its banking app. The app looks like its been designed for iOS6 (which was released in 2012). Current iOS version is 12.
RBC's mobile app looks outdated. If you'd like to have a look, I took a screenshot for you.
Fees are in line with big bank-owned brokerages
As with most big bank-owned brokerages, trading fee is $9.95. RBC needs $15,000 across all your accounts, 3 trades per quarter or $300 in quarterly pre-authorized contributions to waive the inactivity fees. Remember Questrade recently waived inactivity fees on all accounts.
If you are buying ETFs, RBC Direct Investing doesn't have any ETFs buying incentives :

It's obvious that Questrade is a better trading app.
Verified personally: Simon holds an active RBC Direct Investing trading account.
Questrade vs BMO Investorline
BMO Investorline
$9.95 per trade
Mobile Trading App
6.5/10
Features & Usability
6.5/10
Pros
(BMO WINS) Banking Integration
Cons
(QUESTRADE WINS) Fees
(QUESTRADE WINS) No Free ETFs
(QUESTRADE WINS) Clunky Mobile App
(QUESTRADE WINS) Clunky Web App
(QUESTRADE WINS) Technical difficulties
(QUESTRADE WINS) User experience
✅Questrade wins over BMO Investorline for fees
✅Questrade wins over BMO Investorline overall user experience
☑️BMO Investorline wins over Questrade for banking integration
Testing BMO's trading apps
Why is the font so small?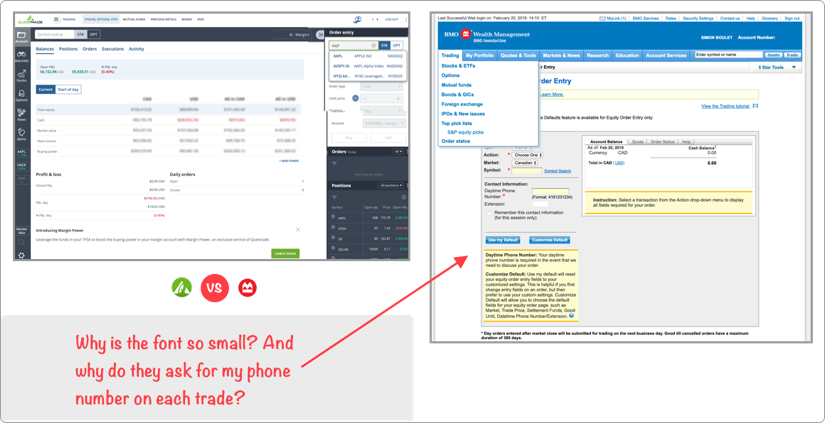 Oops, it seems like BMO wasn't lucky. They had technical problems right when I wanted to review their trading app. 2h14pm on a Wednesday afternoon. Too bad if you wanted to trade. 💥

I waited a few minutes and switched to another browser and it worked. Let's see how it goes if I want to buy a new stock :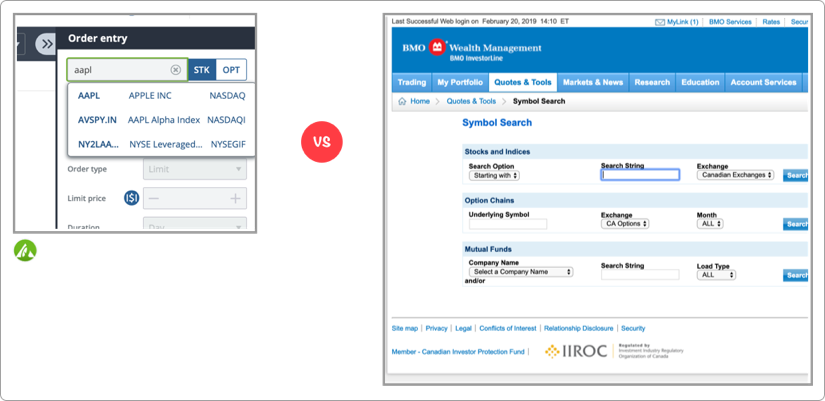 Stock search loads in a new page, asks me to select search options and market in addition to providing my search term. Just compare the 2 screenshots above. You better know the stock symbol you want to trade vs using BMO's symbol search page unless you like loading multiple pages and using cut & paste.
Oh wait…
There are 2 different order entry forms. This is the other one: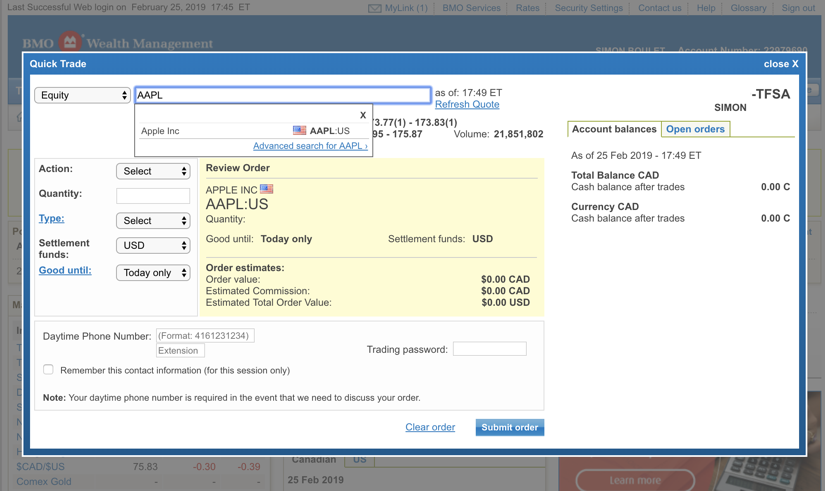 It has inline search at least. If you use the Stocks & ETFs link from the Trading dropdown menu you get a bad order entry form. If you use the Trade button on the right, you're in luck, you get a slightly better order entry form. Why are there 2 different forms for the same thing? It's bad and outdated user interface.
Mobile app is 5 years behind
BMO has a dedicated mobile app for Investorline but it seems very basic. It does not have Touch ID for signing and it looks like it's at least 5 years old. In fact, it seems like the app had only minor fixes and security enhancements since 2015. If you are interested in what it looks like, have a look at BMO Investorline on the App Store.
Clunky trading apps (social proof)
Here are some Twitter comments someone who had the same maintenance message I had and another one that says the mobile app doesn't work very well…


Fees are in line with big bank-owned brokerages
In terms of fees, BMO Investorline charges the usual bank-owned brokerage rate of $9.95. BMO does not offer commission-free ETFs trading.
Technical difficulties, a bad user interface and higher fees make BMO Investorline one of the worst brokerage app we reviewed.
I'd say BMO Investorline is not worth it, even if you are banking with BMO. You better have a look at Questrade.
Verified personally: Simon holds an active BMO Investorline trading account.
Questrade vs Scotia iTrade
Scotia iTrade
$9.99 per trade
✅ Questrade wins over Scotia iTrade for fees
✅ Questrade wins for unlimited free ETFs purchases.
✅ Scotia iTrade wins over Questrade for market data integration.
Big bank-owned with independent roots
Scotia iTrade starts with an edge over the other big bank-owned brokerages as it has some independent brokerage roots. A few years back, Scotiabank acquired the Canadian brokerage arm of E*Trade; it's what became Scotia iTrade. Before that, it had acquired TradeFreedom, a leading online broker for Canadians. I ended up being a Scotia iTrade client after their TradeFreedom acquisition.
Scotia iTrade wins our best big bank-owned brokerage award. 🏆
The best trading app market data integration
iTrade offers a pretty nice trading app.
On the stock trading page, you have all the information you need to make your trade and it uses some kind of overlay window to fill your equity order without loosing the context and holdings details. Unfortunately, stock lookup to buy new stocks lacks the same attractive look as trading from the holdings view.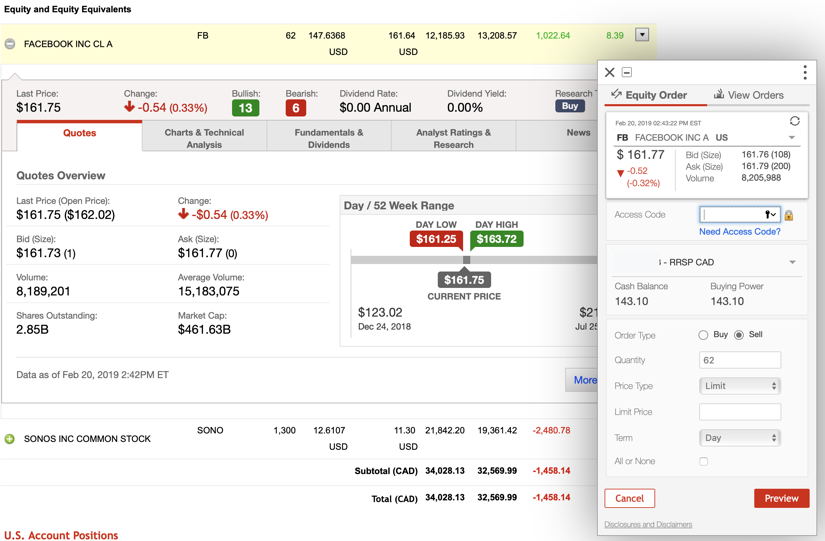 That's 5 stars in my book. Up there with Questrade. ⭐
You can link your bank account from other banks or credit unions (like Desjardins). You can transfer funds using Interac e-Transfer or even Western Union.
Scotia iTrade's mobile trading app lacks the visual appeal of its web app. It's mostly black & white and still has an old look and feel. If you want to see some screenshots, have a look at iTrade on the App Store but keep in mind the screenshots they are showing have been selected to make it look better than it really is. 🧐
They recently fixed what was broken
iTrade lowered the fees a few months ago. They also added the possibility to hold US dollars in registered accounts, something that had been requested for years. Before those changes, users complaint the Scotia fees were incredibly high. Now at $9.99 per trade they are in-line with big bank-owned brokerages. Still, Questrade beats iTrade in term of low fees, free ETFs purchases and ease of use. iTrade fees can be high when your account has low activity or if it doesn't hold at least $25,000.

One advantage of iTrade is access to research information, but I rely on Google, Stockchase and free online resources for market data. Read about how I use Questrade to learn more about my trading apps and tools. Scotia iTrade is a good option if you are already banking with Scotiabank. Otherwise, Questrade might be a better option.
Verified personally: Simon holds an active trading account.
Questrade vs CIBC Investor's Edge
We are in the process of completing our review of CIBC Investor's Edge. We just added some new Investor's Edge desktop web site screenshots.
Investor's Edge is a step better than RBC Direct Investing or BMO Investorline but worst than TD Webbroker or Scotia iTrade. It's the middle-range big bank-owned trading app. It features good brokerage/banking integration as all CIBC banking and investing services offer the same user interface this includes CIBC Banking, CIBC Investor's Edge, CIBC Wood Gundy and CIBC Imperial Service.
Here's a screenshot from CIBC Wood Gundy; pretty similar to Investor's Edge: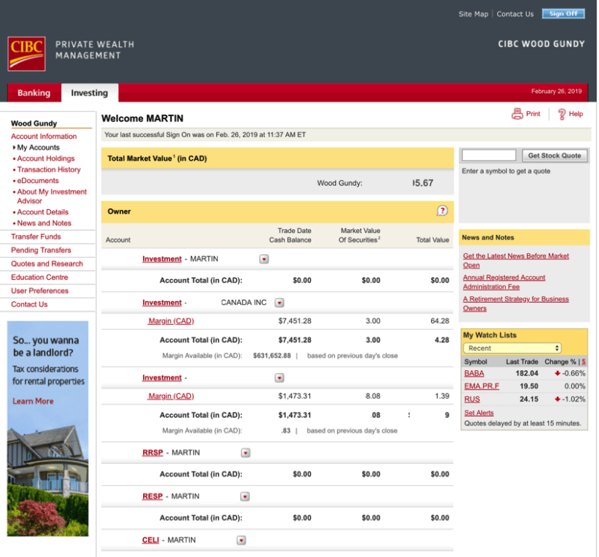 And here's a screenshot of Stock Order entry within Investor's Edge :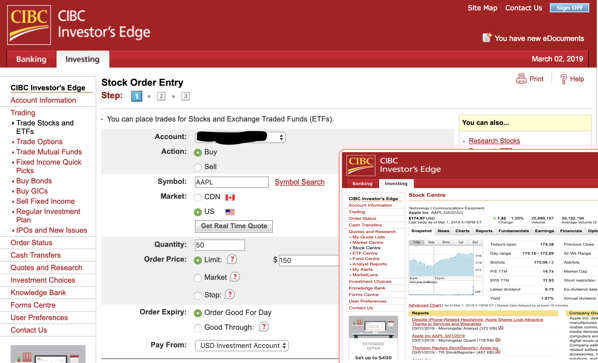 It is one of the worst option in term of fees for low activity and small equity level clients. Otherwise, it seems they now offer a lower $6.95 fee per trade. Questrade is a sure bet even if you are a CIBC banking client.
Verified personally: Martin holds an active CIBC Wood Gundy account.
Questrade vs Tangerine
Tangerine is a subsidiary of Scotiabank. It is not a brokerage and does not offer a trading app to buy & sell stocks but it could be viewed as a no fee and no minimum account size alternative to opening a brokerage account.
For new investors with less than $5000 that really want the lowest fee investing option available, Tangerine offers index mutual funds who, according to the zero-fee ETFs can come with strings attached article in The Globe and Mail, would be a good option to save until you have $5000.
It is also a recommended option at the Canadian Couch Potato (Option #1) and referenced as the simplest way to get started with index investing.
Tangerine offers high interest savings accounts and does not offer brokerage.
Banks We Did Not Consider
We did not consider some big bank-owned brokerages that lag in term of online account opening process. We assume you wouldn't want to print a bunch of documents, sign them and mail them to open an online trading account or worst having to drive to the local branch.
HSBC InvestDirect
Same thing here, according to the Globe and Mail Best Online Brokerage Report, HSBC InvestDirect still does not offer paperless account opening. We might consider HSBC InvestDirect when they offer paperless account opening.
Wealthica to see all your investments in one place
Wealthica can help fix a few of the shortcomings of the brokerage and integrates perfectly with Questrade, Interactive Brokers and any of the brokerages we compared.
Wealthica: automatic enhanced reporting for your trading account
In case you want to open a new Questrade account or transfer from your current big bank-owned brokerage, Wealthica can save your full transaction history from your current brokerage so it's still available to you after you transferred to Questrade.
Here's what it looks like :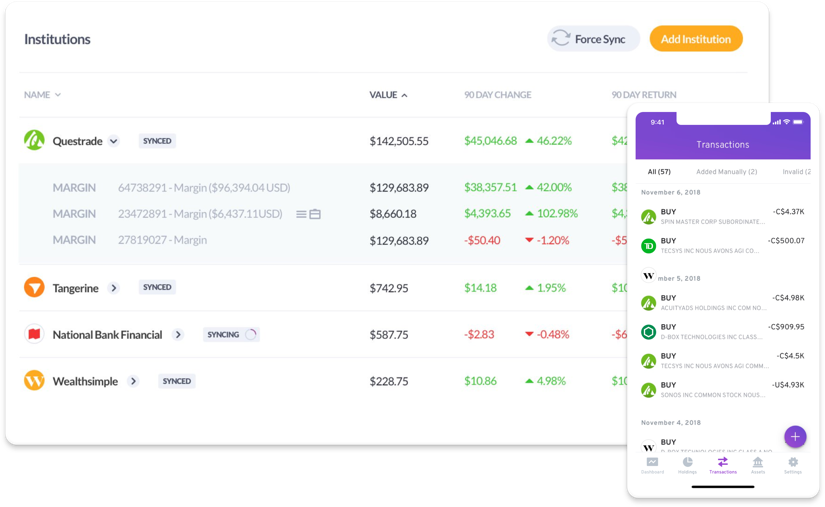 In case you would like to benefit from Questrade's free ETFs purchases, you can keep both your current brokerage and Questrade active, link both inside Wealthica and enjoy a consolidated view of all your investment accounts.
Wealthica is one of Questrade's most popular partner apps.
If you have a question about our Questrade vs the Others review, drop us a line. You can also read our full Questrade Canada Brokerage Review if you want to learn more about their user interface, mobile app, free ETFs purchases, etc. We've had a great experience with Questrade and still use them for our margin, TFSA and RRSP trading accounts. And seriously, even if you don't choose Questrade I would definitely stay AWAY from Virtual Brokers. Even though more people heard of big-bank brokerages, the evidence clearly shows Questrade is the better choice.
Would you like us to review another brokerage? Do you agree or disagree with our reviews? Do you want to share your own experience? We'd like to hear what you think. We read all comments and leave a reply if possible.
Cheers,
Simon, Martin and the Stock Chasers
---
Trending Now
You may also like