Three Canadian Stock Ideas – Part 2 Chris White, CFA
Posted On August 15, 2023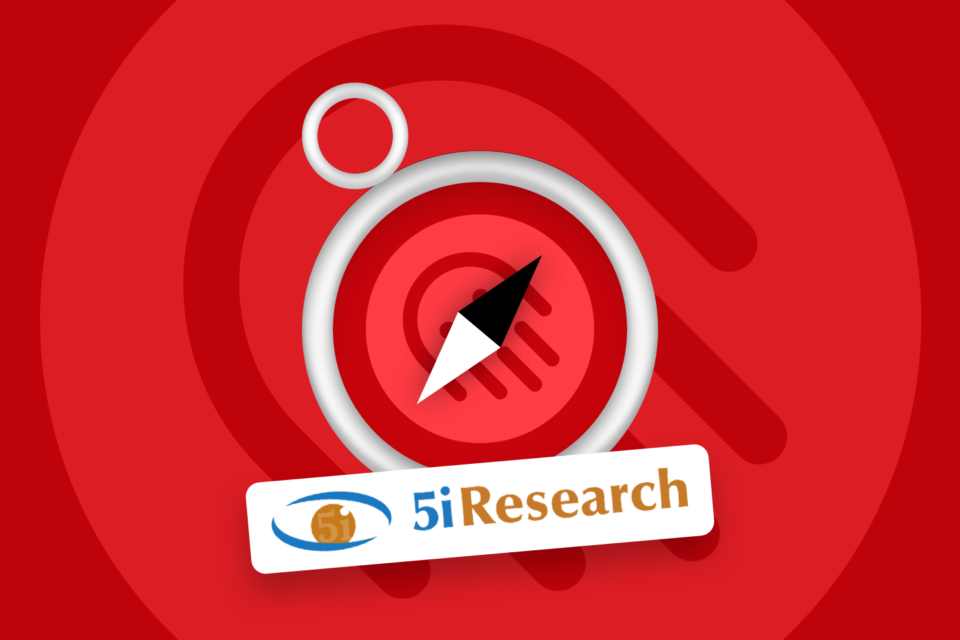 At 5i Research we cover many Canadian companies across different sectors and industries, and we feel that right now there are several names that are presenting good long-term opportunities. With an improving economic and stock market backdrop, we feel that this is a good time to be shopping for new stock ideas, and in this article we want to focus on three Canadian names that we feel can grow their fundamentals, are trading at reasonable valuations, and have strong free cash flows.
Parkland Corp (PKI)
Parkland Corp (PKI) is an international fuel distributor and retailer with operations across 25 countries, geared towards providing individuals with essential fuels, convenience items and quality foods. What we like about PKI is its prolific history of acquisitions and expansion across its various market segments. The company acquired M&M Food Market in 2022, and this is expected to increase the food options that PKI offers through its On the Run sites. We feel that PKI's strengths lie in its geographic diversity, expansion into the renewable energy markets, and its operations in the food retail industry.
In the graph below, we can see that over the past 10 years its trailing-twelve month EBITDA (green bars) has been steadily growing. Its annual revenue growth has shown some cyclicality (orange area), although it largely demonstrates high growth rates, with its latest revenue growth of ~45%. Its free cash flow generation is strong (green area), and we are seeing this begin to ramp up as strong sales growth is aiding free cash flow growth. We feel that its valuation is quite reasonable at 12.1X forward earnings and this represents a discount to its peers.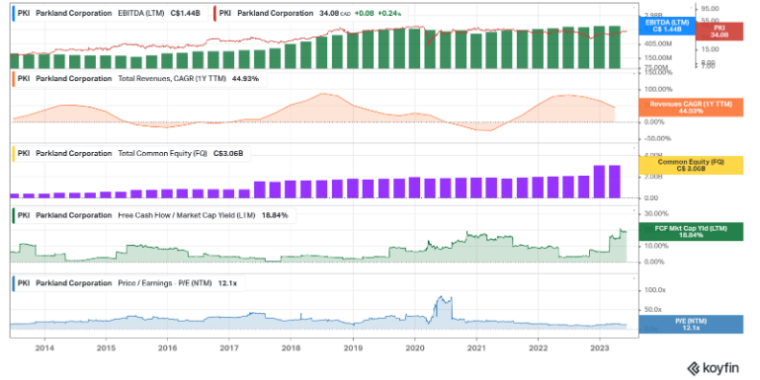 Goeasy (GSY)
Goeasy is one of Canada's leading non-prime consumer lenders operating under the Easyhome, Easyfinancial, and LendCare brands. In addition to providing loans (secured or unsecured), GSY provides financial services to purchase furniture, electronics, computers, and appliances. We like GSY for its niche target market, and its long-term strategy of expanding its product offerings, developing channels of distribution, and expanding its geographic exposure.
In the graph below, we demonstrate GSY's historically strong Return on Equity (ROE) in green bars, which currently stands at 20%. The company's revenue growth has been increasing in most years, although over the past year it has seen its growth rate compress as higher interest rates took a toll on borrowers. Although, it still boasts a reasonable ~11% year-over-year increase in sales. Its balance sheet has been expanding, as can be seen in its common equity expansion (purple bars), and its forward P/E of 7.7X is considered to be quite cheap, especially in relation to its historical averages. We feel that GSY is a fundamentally strong small-cap name and we do not see much risk in the way of multiple contraction, which should help to support its share price.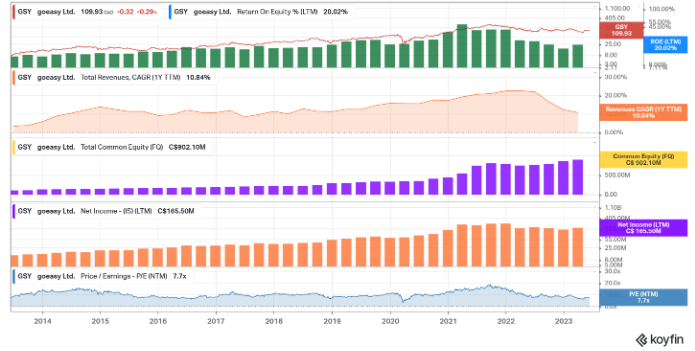 Topicus (TOI)
Topicus is a serial acquirer that is focused on buying and managing vertical market software companies that provide mission-critical solutions for its customers. TOI is a spin-off from Constellation Software (CSU) in 2021, and its focus is concentrated on the European market. TOI has done an excellent job of creating value through its strong capital allocation skills, and ability to make accretive acquisitions of vertical market software companies. We like this name as a smaller, and similar version of Constellation Software, but focused on the European market.
In the graph below, we highlight the company's share price over the past few years (red area), its robust sales growth rates (purple area), which indicate a recent one-year sales growth rate of 27%, and its solid free cash flows. TOI does not have much history as a public company, but its ability to maintain these levels of growth and free cash flows amid a challenging economic backdrop is encouraging, and we feel that its price to sales ratio of 5.6X is reasonable given its high growth rates. For a smaller vertical market software acquisition company that has a long runway for growth, we like TOI's position in the market today.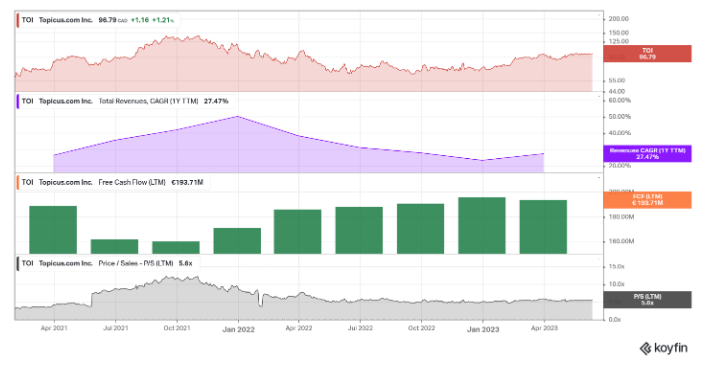 Strong Sales Growth Rates and Reasonable Valuations
These names all share common themes of strong annual sales growth rates, particularly amid a challenging economic environment, and fair valuations, especially compared to historical averages. We like the unique fundamental value that each name brings forth, and we believe that in an improving stock market, these are names that can see multiple expansion as well as capital appreciation as their fundamentals continue to improve.
At 5i Research, we write research reports on Parkland Corp (PKI), Goeasy (GSY), and Topicus (TOI), and individuals can take a read through the reports using the free trial link below.
Try 5i for Free
You can try 5i Research for free with a 14-day trial by following this link and entering the code: wealthica2023
---
Trending Now