How to Buy Bitcoins in Canada – Step by Step Guide to your First Bitcoin (2021)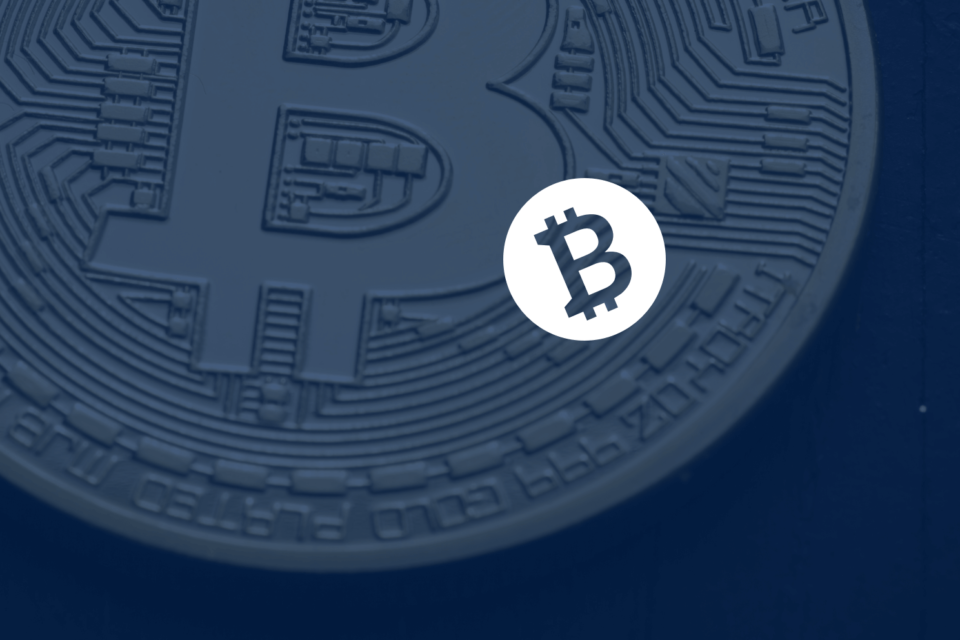 Cryptocurrency has been a heavily discussed topic over the last decade, with arguments from both sides of the aisle. Some love it, some don't believe in it. The most famous amongst the various digital currencies is the original Bitcoin. Read further to learn about Bitcoins in Canada and How to Buy Bitcoins.
Things change fast in the crypto world.  New crypto players, new cryptos, new trading apps. This is our 2021 update to buying Bitcoins and cryptocurrencies in Canada.
Interest in digital investment is growing quickly, with the general public becoming more and more aware of bitcoins. If you're curious about how cryptocurrency works, and how to go about purchasing your first Bitcoins, we've gathered all the information you'll need here. We also have an older post on the Top 7 Cryptocurrency Investing Tips that you might find useful still.
From CAD to Trading Bitcoin
---
Affiliate Disclaimer – Even though we receive referral fees from companies mentioned on this website, we try to make our reviews unbiased and backed by our own experience and social proof. If you sign up for Coinsquare, Newton, Shakepay, Binance or Zignaly using our affiliate links we may earn a commission. We will use most of the revenues to make Stockchase and Wealthica better. Your support helps and we genuinely appreciate it. We truly believe they're great cryptocurrency tools and that you'll be happy with the service they provide. Do your research on Google, Reddit and Facebook groups and you'll find most people say the same.
What is cryptocurrency?
Cryptocurrency is a decentralized digital asset or digital currency. This is contrary to what is called fiat currency, which is a legal tender backed by an issuing government. The Canadian dollar would be an example of fiat currency.
Bitcoin is generally considered the first decentralized cryptocurrency launched in 2009.
It's still the most widely known and held cryptocurrency. Since there have been more than 4,000 altcoins, or alternative variants of Bitcoin. According to Fortune, if you had bought $100 USD worth of Bitcoins in 2010 at 6 cents a Bitcoin, it was worth $28,341,266 in 2017. Imagine what it would be worth today in 2021.
However, Bitcoins and other cryptocurrencies are very speculative. They experience huge volatility and are only recommended as an investment you make with money you don't mind losing.
Investing in cryptocurrency has some advantages such as paying cheap fees compared to investing in fiat currencies. They also offer the availability of transactions and a quick exchange, as well as being able to trade whenever you want. Anyone, anywhere, at any time can trade bitcoins.
How does cryptocurrency work?
Cryptocurrency works through blockchain technology that serves as a public transaction database. All transactions are included in the blockchain are reinforced with cryptography for the integrity and chronological order of the blockchain. You can read more about this technology here.
Is Bitcoin Safe?
Bitcoins can be securely held in local drives, computers or in digital wallets. Bitcoins themselves are safe. However, as this is still a developing domain with little regulation, which currency exchange, digital wallet and other services you use when trading your bitcoins is important. There have been stories of massive scams that have had millions of dollars worth of Bitcoins being stolen away.
One key factor in trading Bitcoin safely is to choose the exchange wisely.
In terms of investment risk, as we previously noted, Bitcoin and other Altcoins are very volatile so you must be prudent and only invest as much as you are willing to lose.
How to Buy Bitcoins In Canada?
Buying your first Bitcoins is easy if you go with the right platform. We used to recommend Coinsquare as the best and easiest way to buy Bitcoins for Canadians. But today, there are other great alternatives for Canadians.
+ Coinsquare ($10 CAD in BTC)
+ Newton ($25 Signup Bonus)
+ Shakepay ($10 Signup Bonus)
+ Questrade – Through a Bitcoin ETF ($50 in free trades)
+ Wealthsimple Trade ($10 Signup Bonus)
Coinsquare
Coinsquare calls itself Canada's home for digital currency.
It's a Toronto based leader in cryptocurrency exchange in Canada. The main draw for using Coinsquare is that you can exchange CAD to Bitcoins. As Canadian investors, this is a huge advantage as you won't need to pay for exchange fees to buy USD to trade to Bitcoins.
Coinsquare also has a 95% cold storage policy that guarantees a very high level of security. Cold storage means the digital wallet is stored on a platform that is not connected to the internet, protected from unauthorized access or hacks.
Why use Coinsquare?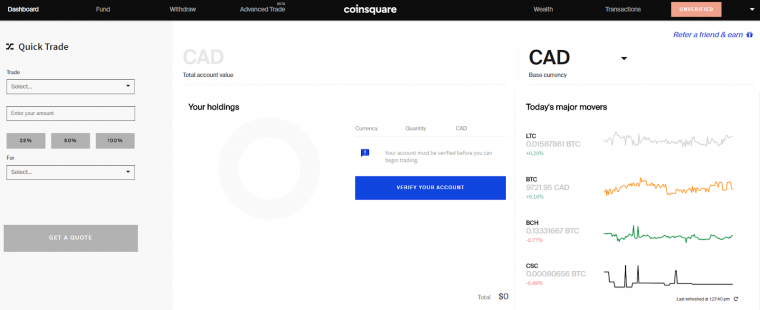 Here are a few reasons to use Coinsquare :
CAD Support
Transfer funds easily using Interac eTransfers
Easy and quick account verification process
The user interface is also very sleek!
Getting verified and fund transfers
To buy Bitcoins on Coinsquare you'll need to first complete the signup process and get verified. To open an account, you'll need a mobile phone to get a verification code, government issued photo ID and a proof of address.
Get $10 when you signup for
Coinsquare
using our affiliate
link
 (awarded by Coinsquare after verification and funding).
Once verified, you can transfer funds to the account using the following methods: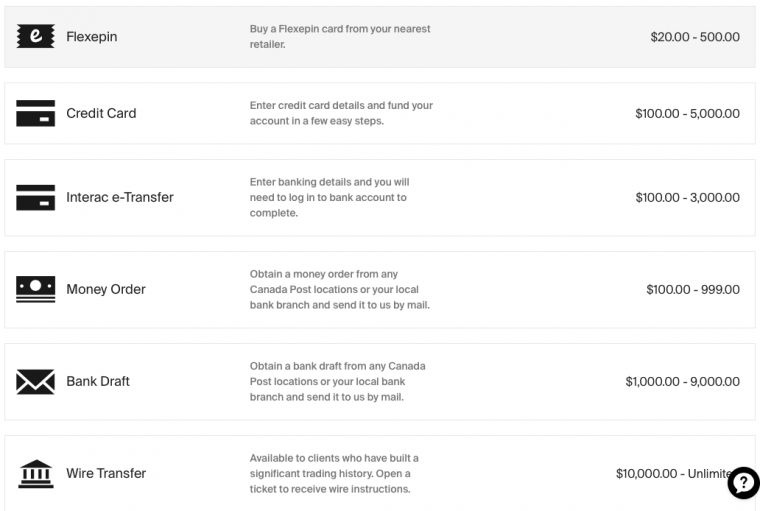 Personally, it took a day to be verified and another four days, including the weekend, for them to accept my e-transfer. Their usual processing time is 1-5+ days, according to their website.
All accounts are subject to 7 days of withholding on incoming e-Transfers.
Your funds will be available for trading as soon as they are credited to your account but the funded balance (CAD and purchased coins) will not be available for withdrawal until the end of the withholding period.
Withholding restrictions are removed on subsequent transfers after a minimum of 5 completed e-transfers and 3000 CAD of cumulative volume.
Trade the deposited funds (and fees)
You can trade your deposited funds to Bitcoins directly on Coinsquare on their platform, or to any other digital currencies they support. Take a note that QuickTrade fees are a little higher than buying on the Bit Markets (or "Advanced Trading") but they are both very low.

Quick Trade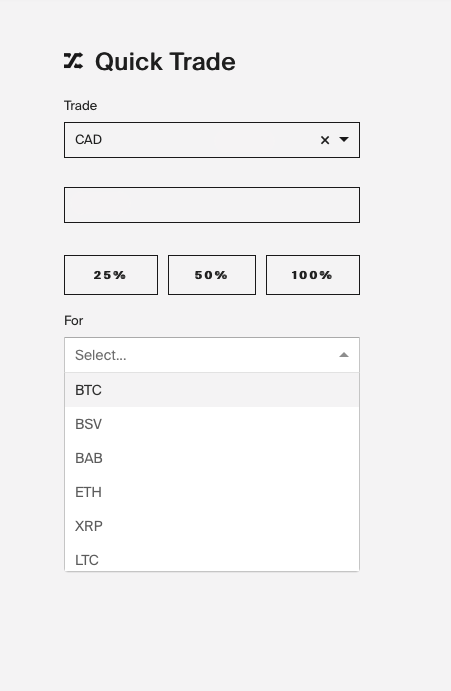 The Quick Trade screen is easy to use and accessible from the main screen. It also has shortcuts for the amount you want to allocate for your trade.
However, we recommend just buying Bitcoins with CAD and to use the Binance exchange to trade between different cryptocurrencies, as they support a greater number of altcoins and allows for more functionality.
Social Proof
Coinsquare is a favourite among Canadian bitcoin investors for their excellent support and ease of use. We compiled a few comments found on Twitter and Reddit about Coinsquare.





Coinsquare to Binance
If you are serious about trading cryptocurrencies, you will probably want to transfer some Bitcoins from Coinsquare to an exchange like Binance. You will need to signup with a Cryptocurrency Exchange. The exchange will allow you to trade almost all of the existing cryptocurrencies.
How to transfer from Coinsquare to Binance
Before you can trade on Binance, you need to :
– Convert Canadian Dollars to Bitcoin using Coinsquare
– Transfer some Bitcoins to Binance
– Buy other cryptocurrencies using your Bitcoins
How to transfer from Coinsquare to Binance
To transfer your Bitcoins from Coinsquare to Binance, you'll need to withdraw your coins from Coinsquare to your unique deposit address on Binance. You can find your deposit address under Wallet – Deposit on Binance and use it under Withdraw – Bitcoin at Coinsquare.
Once your Bitcoins are transferred, you can either directly trade them against other digital currencies or trade automatically by using external crypto signals providers. We believe that a good strategy for investors who are less experienced in trading altcoins to use a Crypto Trading Bot that reacts quickly to signals and market changes.
Social Proof
Binance is recommended by many users for it's excellent customer service, security, and speed.




Crypto Trading Bot – Zignaly
We use Zignaly as a Crypto Trading Bot to automate trading without actively managing trades. You can also manually trade. They offer a 30-day trial to try out the service for free.
Zignaly integrates with Binance using an API, making it easy to connect and use. On the platform, you can use external crypto signals providers, connect with your TradingView account and use with indicators to automate trading. They offer Trailing Stop Loss, not offered by most exchanges, that follows the price until the market reverses. You can also use Zignaly to set your full trading strategies with concurrent orders like Stop-Loss, Take-Profit, etc. for the same balance.
The clean trading screen for manual trades and the provider signal integration gives a great user experience: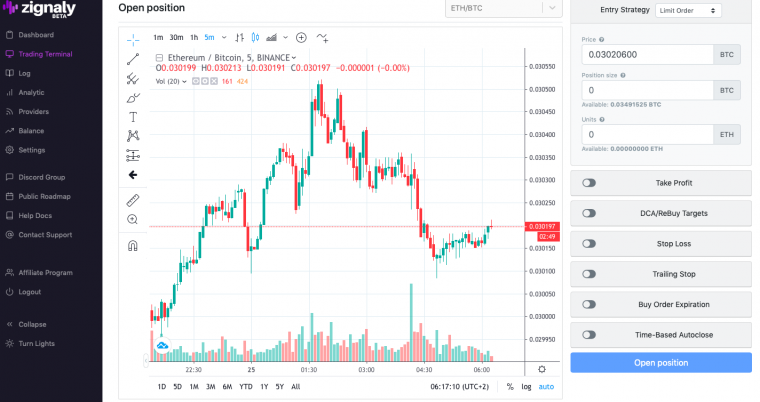 Zignaly trades directly on the exchange side and your coins are always stored on the exchange so withdrawal rights are not needed.
You can start with few basic configurations on the general settings page or connect with a signal provider. The tools have explanations on each feature so it's easy to learn what works for you. There are more than a dozen signal providers that you can choose from, ranging in subscription fees from free to $20 per month.
Most offer a free trial period and you can see their past performance. It's highly recommended to research each providers strategies, cost, and performance. You can also create your own provider by creating your own signals through Tradingview, Coinigy or any other place.
To set-up and start trading using Zignaly, follow these steps:
Create Binance API Keys

You're now connected to your Binance account through Zignaly.
To follow signals and automate your trade, use a signal provider!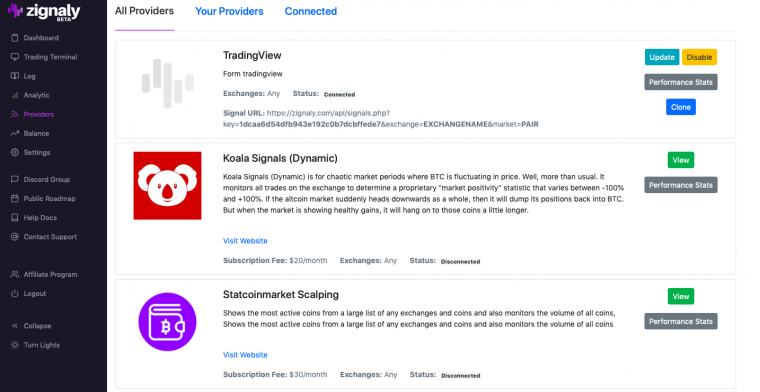 To connect to a provider:
Enable a signal provider
Configure the settings of the chosen provider
You're all set! Just wait for the next signal
Tracking Bitcoin using CoinTracking and Wealthica
You can track your bitcoin and other digital currencies using CoinTracking through Wealthica. Wealthica is an investment aggregate platform that gives you a holistic view of all your investments across institutions.
Wealthica is also brought to you by the same team that brings you Stockchase.
CoinTracking and Wealthica recently announced their partnership add-on to help investors track cryptocurrency alongside other investments. You can create a Wealthica account here if you don't have one already. To track bitcoins, you will need to have both a CoinTracking account and add the add-on on Wealthica.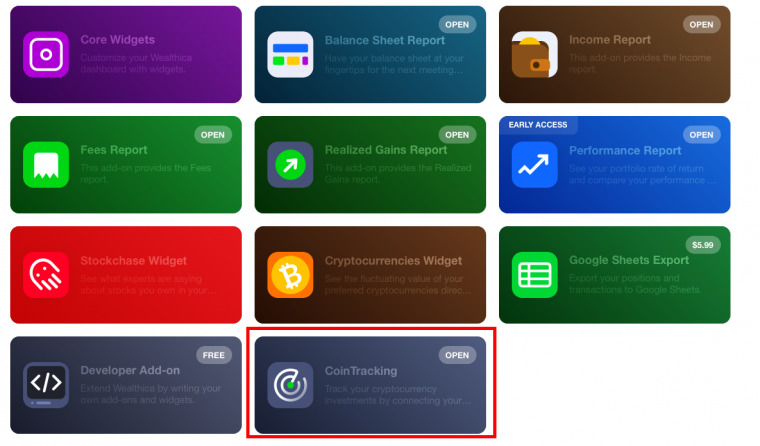 You can create an account with CoinTracking here and generate an API key to connect to Wealthica.
Conclusion
Cryptocurrency is a developing field of currency investment that has experienced wild highs and severe crashes. Although there is quite a lot of volatility, Bitcoins have a lot of support around the world, and is lauded as the next stage of currency. Having the right tools is critical in making it easy to trade crypto. With a combination of Coinsquare, Binance and Zignaly to trade, along with CoinTracking and Wealthica to track, we're sure you'll have a good experience trading cryptocurrencies.
Make sure to do your research and due diligence in order to have the best experience possible.
Happy investing!
---
Trending Now
You may also like