Stock Watch List Enhanced: Free Stock Portfolio Tracker
Posted On September 17, 2020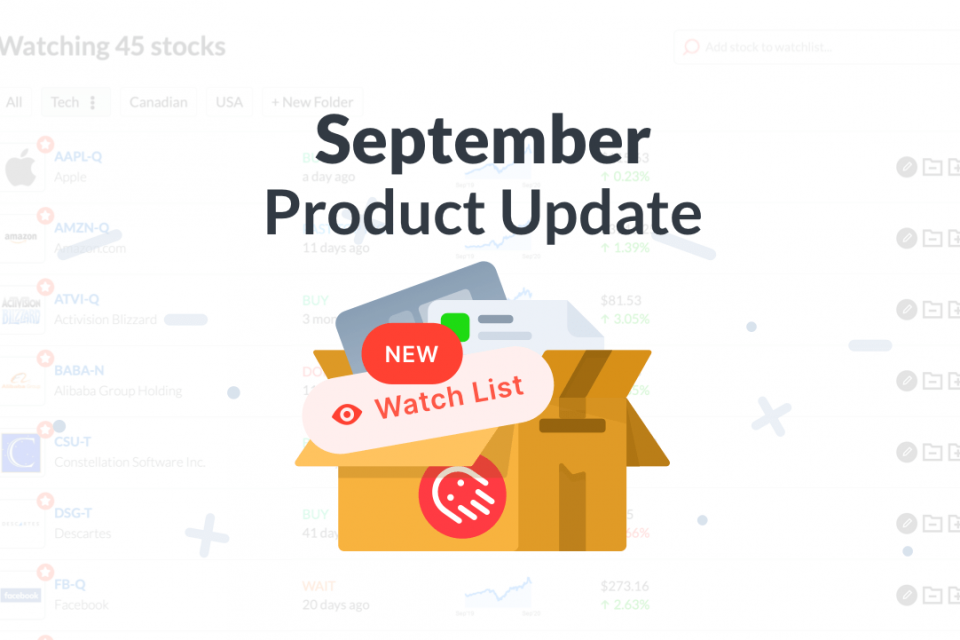 The new Stockchase – Stock Watch List is now faster than ever and allows you to organize your stocks into folders.
Add your favorite stocks to your stock watch list and receive daily email updates about new opinions matching your stock portfolio. A great complement or replacement for the Globe and Mail stock watch list and the retired Google Portfolio Tracker as your free stock portfolio watchlist.

If you don't already have a free account, sign up free now!
Lots of changes have been deployed to Stockchase in the last few days. 🆕 Hopefully, you'll like it! Among the visible changes, we've been adding new stock opinion sources, redesigning the watchlist and we also introduced a new homepage.
New Dashboard/Homepage

We introduced a new homepage design which, on desktop, will give you a quick glance at your stock watch list and the new content on Stockchase.
You can also easily add stocks to your watchlist and preview your watch list on the right sidebar on mobile. We will be slowly rolling out the new design to other pages of the site. Please let us know what you think.

New Content – Available for free for a limited time
We recently added three new sources of stock opinions and also now publish Allan's stock picks from the weekly Stockchase Discover posts in the stocks opinions feed.
We made all this new content available to everyone for free, but we are thinking of moving some of it to Premium-Only to enhance the value of our Premium subscription. Enjoy it free while it lasts. 👏
Stockchase Research – Institutional Analysts Coverage by Michael
Michael publishes the Stockchase Research Top Picks every Tuesday and Thursday. These picks focus on newly released institutional analyst opinions and targets along with our own additional insights. Michael's stock picks usually provide hints about analysts' price targets and a suggested stop loss.
Stockchase Insights – Billy's most-liked answers from 5i Research
Billy covers Insights and Top Picks from the 5i Research Community forums. 5i Research is a subscription based service founded by stock experts Ryan Modesto and Peter Hodson where you can get answers to your own investing questions. Use our special offer coupon code "Stockchase" to redeem your free 1 month trial to 5i Research.
We publish Stockchase Insights every Monday, Wednesday and Friday on Canadian stock ideas from the 5i Research Community forums.
Stockchase Discover – Stock picks from Allan's weekly posts
Allan has been writing weekly posts for a few months now but we did not include his stock picks in the opinions feed until recently. You can now find those under the Stockchase Discover label. It's now easier to see Allan's picks and continue to read the whole post if interested. Allan also contributes to the monthly Best Stock Ideas newsletter we send the Premium members monthly.
Jim Cramer's Mad Money – Allan Tong now covers Jim Cramer
Jim Cramer hosts Mad Money on CNBC. He is well-known for his fiery opinions. Allan started covering Jim Cramer's Stock Picks this week and will continue to do so every Monday and Friday. Hopefully, this will contribute to introduce a lot of new American stocks to you readers.
After the close – with Allan Tong
Allan's after the close comment is published each day after market close. It is available for free to all logged in users.
Do you like it? Try the new Stock Watch List
What do you think about your new free stock portfolio tracker?
Share your feedback at hello@stockchase.com
---
Trending Now