Emerging Markets: The Secret to Building a Healthy Portfolio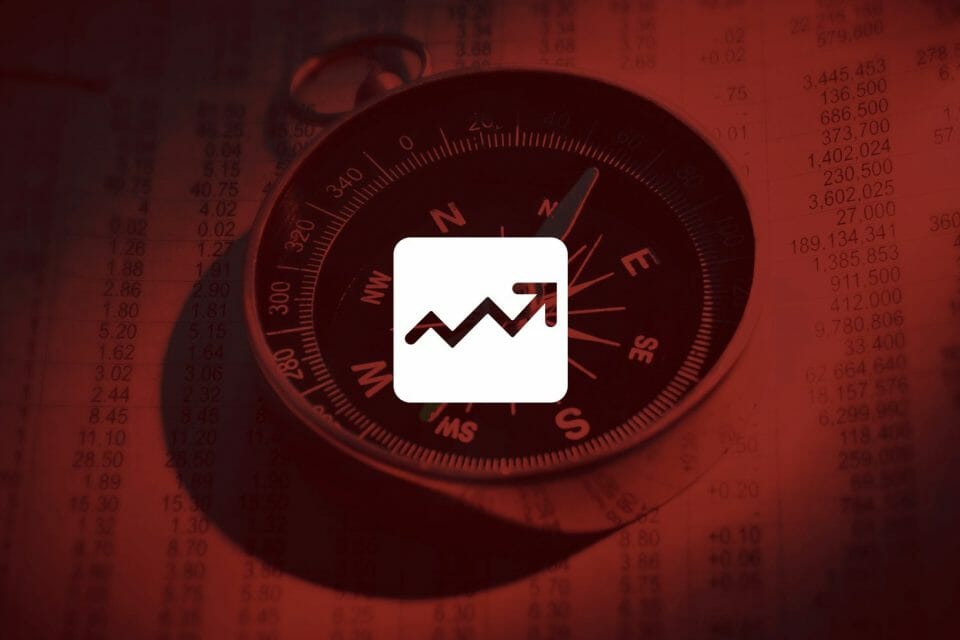 The domestic bias
Chances are as a Canadian investor, most—perhaps all—of your portfolio is Canadian, whether it's stocks, ETFs, mutual funds and/or bonds. This "domestic bias" is driven by the fact that an investor understands his/her economy the best. What's wrong with that? Invest in what you know, right?
Putting all your eggs in the Canadian basket?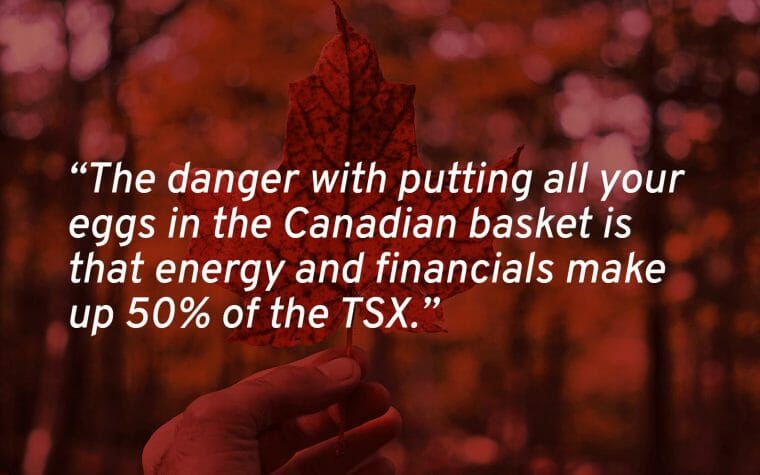 The danger with putting all your eggs in the Canadian basket is that energy and financials make up 50% of the TSX. That's great if there's an oil boom and Canadian banks go on a tear.
Problem is, WCS is struggling to break US$50 per barrel while leading banks, like Toronto-Dominion Bank (TD-T), are down 0.42% so far this year.
Meanwhile, the S&P 500 is up 4.6% and the Goldman Sachs ActiveBeta Emerging Market Equity ETF (GEM-N) is 8.6% higher.
So, should you own emerging markets?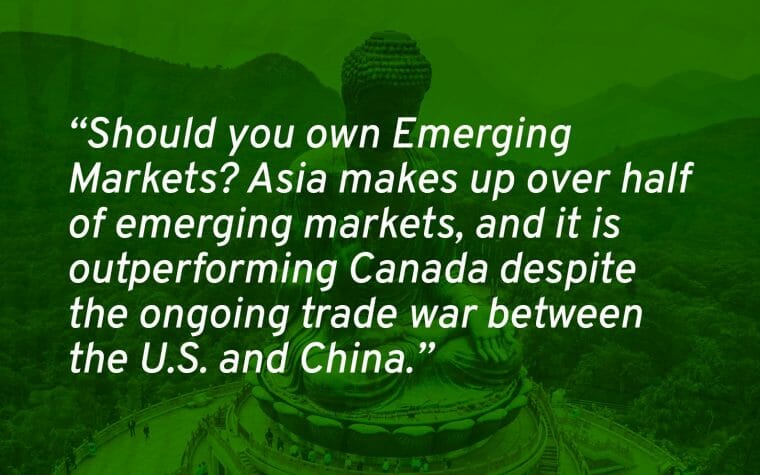 And just what are emerging markets?
According to MSCI, its EM index is led by China, comprising 33% by weight, followed by South Korea (13%), Taiwan (11.35%), then India, Brazil, South Africa, Russia, Mexico and other nations in the single digits. In other words, Asia makes up over half of emerging markets, and it is outperforming Canada despite the ongoing trade war between the U.S. and China.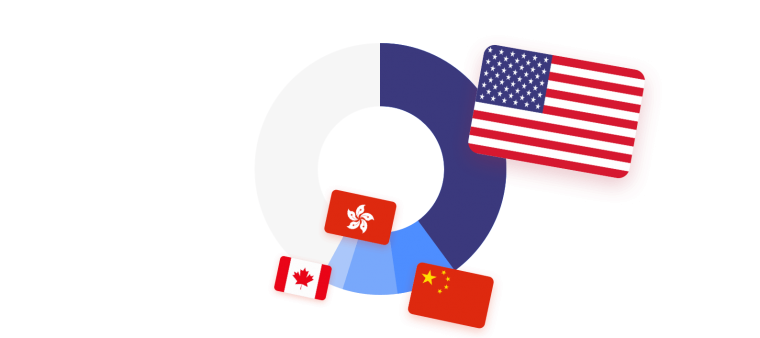 True, America still makes up the largest slice of the world market cap at 40%, but Japan and China follow at 7.5% each, then Hong Kong at 6.5%. In contrast, Canada comprises only 3%.
However, the middle classes in China, South Korea and India are growing at a much faster rate than Canada's, which means there will be more people with money buying things (domestic goods as well as imports) in those countries than here. They will travel, bank and require insurance. They will pay for it by using more credit cards.
If you follow the money, it leads to EM, namely Asia.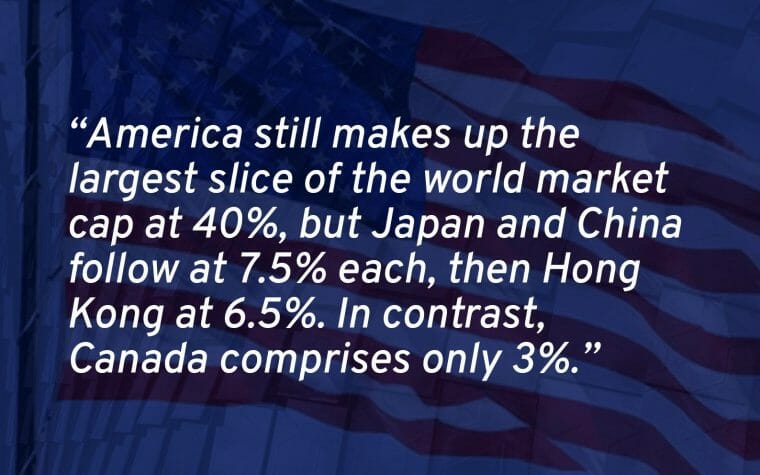 Where to start investing in Emerging Markets?
But Asia, you say, is vast and varied. Where to start investing?
Which companies and sectors?
A good way to start is in ETFs that charge low MERs. Our recent primer, highlights the Goldman Sachs ActiveBeta Emerging Market Equity ETF (GEM-N, 0.45% MER) which holds 70% Asian Stocks and 30% China.
Investors who want to avoid buying on an American exchange and associated currency fluctuations can opt for iShares Core MSCI Emerging Markets (XEC-T, 0.26% MER). XEC is dominated by IT heavyweights from China, Korea, and Taiwan, starting with Tencent, Alibaba and Samsung.
GEM-N and XEC-T
Both GEM-N and XEC-T exclude Japan, whose growth diverges from its upstart neighbours, but for Japanese exposure look to BMO MSCI EAFE (ZEA-T, 0.21% MER). Year-to-date, GEM-N and ZEA-T have risen over 8%, while XEC-T trails at 4.6%.
Investing in the top stocks themselves
Investors with more confidence and time to research may consider the top stocks themselves. Tencent Holdings (0700-HK) is a Chinese multimedia conglomerate that operates in social media, e-commerce, online games and payments, and is the world's largest gambling company. Analysts believe this juggernaut will continue to grow. However, like all Chinese stocks, Tencent has been impacted by the ongoing trade war, currently off its 52-week high by 10%, but analysts note that all its business lies within China and so this pressure will be temporary.
The other Chinese behemoth is Alibaba Group Holding (BABA-N). Often called the Amazon of China, Alibaba is also developing their cloud and e-commerce businesses, and are planning to list $20 billion worth of shares in Hong Kong later this year. No doubt that China's largest company is a monumental success story, but the U.S.-China trade war continues to pressure the stock, while the Chinese government (like Washington threatening Facebook) has been talking anti-trust.
For those who still want to invest in EM, then Samsung (005930-KRX) is a popular candidate. Exploding phones and corruption are now behind the company (we hope) which currently trades near 52-week highs at 46,500 KRW. Unlike Alibaba and Tencent, Samsung pays a handsome 3.1% dividend yield to offer some safety.
Tencent Holdings, Alibaba Group Holdings and Samsung
Analysts remain confident about China in the long-term, but others point to the lack of transparency in fiscal reporting and the fact that the Chinese government remains a dictatorship that can impose its will on any company or industry (witness the canola oil and now pork ban against Canadian farmers).
The need to diversify to reduce risk
At the end of the day, Canadians need to diversify to reduce risk. With China's GDP growth rate at 6.9% dwarfing Canada's 3.2% and America's 2.2% (2017 World Book figures), investors should turn to eastern horizons.
---
Trending Now
You may also like