3 Bargain Stocks: Eli Lilly, Unilever & Apple
Posted On February 16, 2021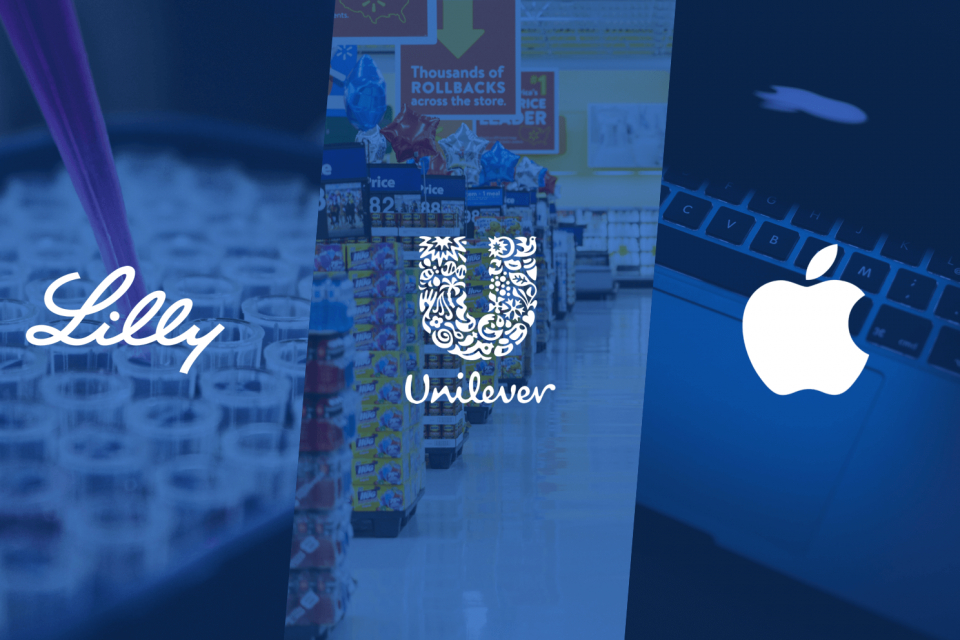 Bargain Stocks
This week we offer a mix of stocks—defensive, FAANG and healthcare. As markets and valuations continue to climb, it's hard to find a good bargain stock, but certain names offer some upside and long-term promise.

This drugmaker soared when it announced positive phase 2 results of its Alzheimer's drug. All eyes are on the next set of results on March 12. If you enter now, essentially, you're betting on positive news. Wall Street is bullish about LLY stock, with 10 buys and two holds, and a price target of $219.64, or 6% upside. If the news pans out, it would be a bargain stock at the current price.
There are reasons to be optimistic. Eli Lilly has a good track record of making money for its shareholders. Its one-year return is 44.44% and three-year is 162.49%. If March 12 disappoints, then LLY stock offers a fallback in its diabetes franchise. Unfortunately, the rate of diabetes continues to climb in China and India as their middle class grows—and grows unhealthy.
Of course, past success doesn't ensure future ones. Drug stocks are risky, because they fly or fall on the next test results, so buyer beware. Certainly, last week's headlines about its CFO quitting over "inappropriate comments with employees" didn't help the stock, but that sell-off was temporary.
LLY stock is now flirting with 52-week highs and trading above its 50- and 200-day moving averages. It trades at 25.55x and pays a 1.64% dividend. Essentially, positive news on March 12 will launch the LLY stock—and alleviate the suffering of many people and their families—but negative headlines will sink it, which might make it an even bigger bargain stock.
Verdict: Speculative buy

A defensive stock, Unilever sells consumer goods, including shampoo, under brands such as Dove, Lux and Tresemme. In fact, the company is inching further into personal care, which enjoys healthy margins. Another tailwind is that this U.K. company is selling increasingly more products in India and China, where the middle class continues to flourish. About 60% of UL's revenues now come from emerging markets.
The UL stock pays a safe 3.47% dividend at a payout ratio of 76%, and it trades at a PE of 21.78x. At $55, UL stock is currently exchanging hands below its 50-day moving average of $58.71 and its 200-day of $60.02. A real bargain stock. This mega conglomerate trades on several exchanges, but the most accessible for North Americans is the NYSE listing under ticker UL stock.
Verdict: Buy for the long term; for income investors

Among the mega-tech stocks, this giant has stalled making it a good bargain stock within the sector. Year-to-date, AAPL stock has climbed only 2% compared to Microsoft which has advanced 10%, Tesla and Nvidia which have both soared 15%. Then again, Amazon has barely moved while Netflix has risen merely 3%.
What happened? Probably, Apple is a victim of hype. The stock popped over rumours that Apple was talking to Hyundai and Nissan about partnering on self-driving cars, which would extend Apple's legacy from handheld devices (its iconic iPhone) in to new technological applications. Turns out that Apple isn't talking to these carmakers and the stock has dropped $10 to around $135 in less than a month. Should shareholders be worried?
No. The iPhone franchise is backed by the most loyal customers in the world at 93% brand loyalty, and the company's latest phone is built for the oncoming 5G network which will revolutionize technology. Increasingly, Apple is making money from subscription-based services, and is no long just selling hardware. However, AAPL stock had moved up so far and fast in the last calendar quarter of 2020 that it's pausing for now. Also, markets themselves are overheated.
When the next pullback happens, pick up some AAPL stock and hold it for a long time; long term it will be a good bargain stock. Wall Street targets $150.52, about 11% upside, for AAPL stock in the coming year based on 20 buys, five holds and two sells.
Verdict: Buy on weakness
---
Trending Now