This Bank is on a Shopping Spree in Latin America (It's a Canadian Bank)
Posted On September 12, 2018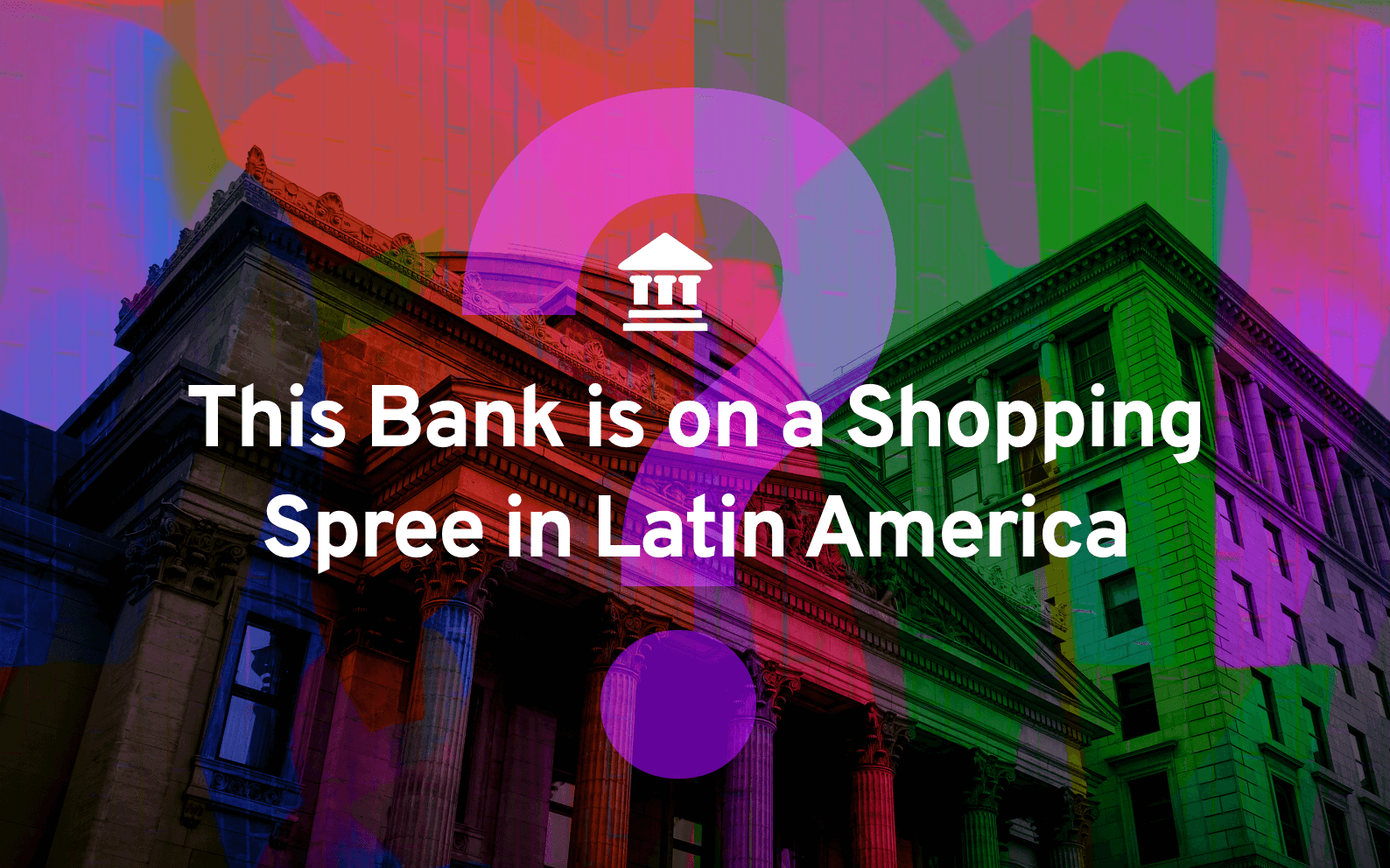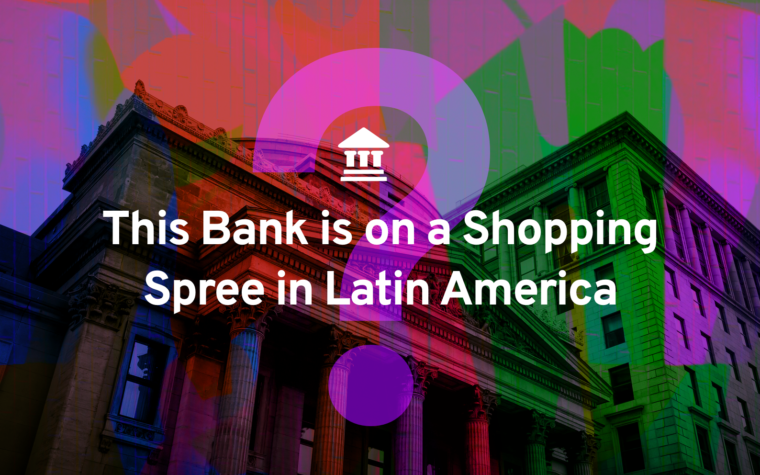 [adinserter block="4″]
🤔 What Financial Institution is Canada's Most International Bank?
Canada's Most International Bank
The one Canadian Bank which stands ahead in internationalization is Bank of Nova Scotia for sure. The Bank of Nova Scotia is an international bank and a financial services provider in :
🇨🇦 North America
🇲🇽 Latin America
☀️ Caribbean
🇵🇦 Central America
🌏 Asia-Pacific
It divides its operations into Canadian Banking, International Banking, Global Banking and Markets and other, which represents smaller operating segments, including Group Treasury.
Latin America's business operations are expected to become the largest contributor to the Nova Scotia Bank with recent acquisitions.
Scotiabank's future growth and vision
With its recent Pacific Alliance expansion, International Acquisitions of both BBVA Chile and Citibank Colombia, international expansion cements Scotiabank's' future growth and vision.

BNS-T
In its acquisition presentation, BNS presents itself as the leading bank in the Pacific Alliance which is formed by Chile, Colombia, Mexico and Peru.
Notable acquisitions in the last years include :
🇨🇴 Citibank Colombia (2018)
🇨🇱 BBVA Chile (2017)
🇨🇱 Cencosud C.A. Chile (2015)
🇵🇪 Citibank Peru (2015)
🇨🇷 Citibank Costa Rica (2015)
🇵🇦 Citibank Panama (2015)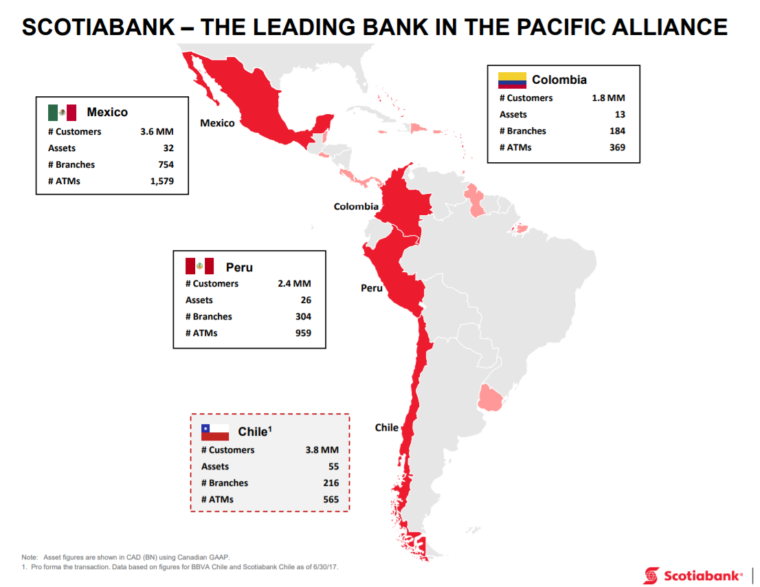 Source: BNS PowerPoint Presentation
Acquisitions in Canada
Bank of Nova Scotia is also very active in the M&A scene in Canada. It recently acquired MD Financial Canada's leading provider of financial services to physicians and also Jarislowsky Fraser. Two strong names in the Canadian finance industry that are now owned by Scotia.
It currently ranks third in Canada in term of Market Cap and Deposits, it has great potential to climb the ladder faster over the next years.
👑 RBC: $85B
🍁 TD: $75B
🐋 SCOTIA: $60B
Source: Investopedia
What stock experts are saying about BNS
A buying opportunity under $80
Expert Bruce Campbell likes the diversification of the Banking business across the International market. The stock price got corrected for some time because of its recent acquisition of the third largest bank in Chile.
It is split between Canada and international markets including Chile, Mexico and the Philippines.  He likes that diversification.  The stock price is still recovering from a recent $1.5 billion acquisition.  He thinks it is a buying opportunity at a level less than $80.
It keeps expanding its International presence
Expert Norman Levine seems to be bullish over Bank of Nova Scotia. He likes it especially because it has lesser Operations in Canada. BNS has more operative branches in Latin America and Asia. It keeps on expanding its International presence through regular acquisitions.
This is the only Canadian bank he owns. He likes it because it has the least exposure to Canada of the Canadian banks and it is the most international bank, having operations in Latin America and Asia. Scotiabank has been making acquisitions that use its current capital and will take time to increase its earnings. The market is punishing it over the short term, but these are great long-term acquisitions.
4.5% Yield
Expert Christine Poole considers the current price as an entry point.
This is down year to date and has lagged the group. This was the only one of the large Canadian banks that missed estimates last quarter. The bank did some big acquisitions and offered equity at the $76 level (close to the current price of $75.12) to fund acquisitions. She thinks the price is attractive–the bank is well managed, they've put money into the wealth management area, which she expects to be a long-term growth area. She owns some Scotiabank. It has not been a core holding but she is buying now, viewing the current price as an entry point. Yield 4.5%.
---
Trending Now
You may also like