The Trump Rally Isn't Over — 5 Stocks that Could Explode Even Higher
The Trump Effect
Stocks have soared since the election of Donald Trump but, according to many stock market strategists, the real rally may just be getting started and the honeymoon will continue.
Stocks are still going up and economy has been growing non-stop since Trump's election. "The market has assumed we elected pro-growth, tax-cutting, roll-back-regulation Donald Trump, and not tariff-oriented Donald Trump," says Bob Doll, chief stock strategist at Nuveen Asset Management. Could this change? Maybe.
Tariffs against China
"Trump is preparing a new list of tariffs against China: Not the best news, obviously. Market reaction is muted." noted Barry Schwartz.
All good until tariff war escalates
"As for Trump's tariffs, these are nickels and dimes against the big scheme of themes–unless the tariff war escalates." said Kim Bolton
[adinserter block="2″]
The biggest influence on the market
"Trump is the biggest influence on the market, both tailwind and headwind: the U.S. tax reform to lower corporate rates, then starts a trade war, creating a vacuum of uncertainty. Is he doing this to open markets down the road? If so, they should play out by the end of 2018, which is a good impetus for markets. Investors should look at assets not as impacted by trade, but benefit from the tax cuts, such as the banks and tech companies. He doesn't believe the US has huge trade surpluses as Trump claims, because so much of U.S. output is services." Richard Croft thinks.
Stocks that could explore higher
Today we review 5 stocks that could 'explode' even higher during this rally, but before we get into the stock picks, it's important to make sure you have the best investing tools in your arsenal in order to maximize your returns from these stocks. Make sure you first read our 7 essential tools to succeed as a DIY investor post and that you Open A Brokerage Account, we recommend Questrade and have a $50 free trades offer for you.
Now on to the 5 stocks…
[adinserter block="4″]

Comments from Stockchase Editors...
---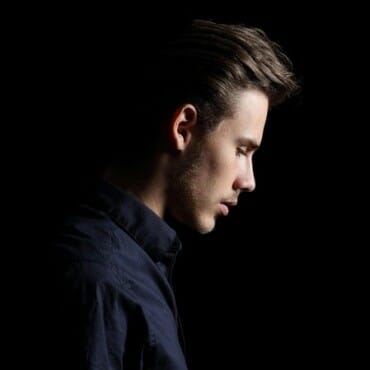 Artom Roberts
My favorite is the defense stock on page 5. Definetly something that Trump has influence on. Today he suggested to NATO countries they should double their defense spendings.
---
[nextpage title="A US bank stock…"]
STOCK 1 OF 5
Bank of America (NYSE:BAC)

Bank of America Corp has been on fire over the last year.  It This is due to a stronger American economy.  For years the U.S. was stuck at zero, or near-zero rates, because the economy lacked strength.  Well, now they're recovering and this time it looks sustainable.
Bank of America and Interest Rates
All of that has led to higher interest rates over the last 15 months.  However, they're still not at what economists consider normal interest rates.
Interest rates will likely continue to climb over the next few years.  But why do rates matter for Bank of America?  With one of the largest collections of customer deposits in the U.S., higher rates allow Bank of America to earn more money on those deposits.
[adinserter block="2″]
Risk-free income
Sales are forecast to grow just 3.7% in 2018, however, earnings are expected to grow about 20%.  It's essentially risk-free income. You can learn more about what experts are saying about Bank of America on Stockchase.
[adinserter block="4″]
[nextpage title="A stock that outperformed Airbus…"]
STOCK 2 OF 5
Boeing (NYSE:BA)
Boeing Co had an amazing 2017 with their stock almost doubling by years end. Those are gains you would expect from a crypto-currency, not an established industrial firm. Cheap oil prices helped give the international aviation sector a big lift, and they seized the opportunity, placing new plane orders left and right.
However, Boeing stock outperformed both Airbus, it's primary competitor, as well as its US-industrial firm rivals.
Why? It's other big business, military defense, has been booming since Trump tweeted that threats from North Korea "will be met with fire and fury."
[adinserter block="2″]
Trump and Defense Spending
Even before Trump's Twitter war with Kim Jong Un, many of the large defense stocks were already up based on expectations for an improved outlook for U.S. defense spending under the Trump administration.
In 2017 the White House proposed a nearly 10 percent increase in the military budget to $603 billion for fiscal 2018.
[adinserter block="4″]
[nextpage title="A company that will benefit from infrastructure plans…"]
STOCK 3 OF 5
Caterpillar (NYSE:CAT)

Caterpillar will undoubtedly be one of the biggest beneficiaries if President Trump rolls out his infrastructure plans to rebuild America. Caterpillar rallied again in December, climbing 11.6% and ending the year with gains of 70%. Yet, this wasn't due to Trump tweets about building a wall. Caterpillar's December rally was likely driven by upcoming Republican tax legislation.
"The Tax Cuts and Jobs Act supports replacement of equipment at an accelerated pace through 2022 as both new and used equipment are now eligible for expensing, a positive for Caterpillar's North American end markets," wrote analyst Ann Duignan. The analyst referenced the tax bill's inclusion of tax deductions applicable to new and use property acquired before 2023.
[adinserter block="2″]
Caterpillar and Recovery in Commodity Prices
In May 2018, Stan Wong selected it as a Top Pick saying he "Just bought it this month. The global economy is accelerating, and sales are doing well. There is a recovery in commodity prices and that is helping them. Trading at 14 times earnings with a 20% growth rate." His analyst price target was $172.32 at that time.
[adinserter block="4″]
[nextpage title="A growing defense stock…"]
Raytheon (NYSE:RTN)
Raytheon is a growing defense and aerospace stock. The stock price declined a bit in June which could offer better value to investors who want to add it to their portfolio. Defense contractors have performed well over the past year, reflecting the election of Donald Trump and the expectation that he (and Republicans generally) will be good for defense spending.
However, the multiple has grown quite high, above its historic average. Still, stock experts still recently rated it as a top pick and a buy.
[adinserter block="2″]
A top pick on Stockchase
Stock expert Cameron Hurst recently chose it as a top pick saying "It has great international exposure with missile and cyber defense as their top products. The valuation is at historical highs, but is not out of the ballpark. Yield 1.6%." He noted analyst's price target is $237.85.
Continue to next page for Stock #5…
[adinserter block="4″]
[nextpage title="A company that sells drugs to Americans…"]
CVS Health Corp. (NYSE:CVS)
Back in October 2017, Darren Sissons commented on CVS Health Corp. and noted "In many cases this is a Trump Administration story. Drug stocks have come off significantly, along with the companies that sell drugs to the American consumer. There has been a recovery in a lot of the drug stocks. Ultimately, this is a story of drug price inflation and the attempts of the government to rein costs in. Longer-term, it is an interesting story, but a very thin margin business. If you get a small drop in profitability, stocks tend to come back significantly."
The stock has a hard time overcoming the competitive threats but it definetly could benefit from a Trump Bump.
A top pick again in June 2018…
It was chosen again as a top pick in June by Paul Harris who noted "Trading at 9x earnings and paying a 3.1% dividend. The success of their large Aetna purchase (which still needs approval) will depend on how well CVS integrates it, which is risky. CVS is about integration: long-term care, pharmacy and home fusion. This integration can propel higher margins." (Analysts' price target: $86.81)
Happy trading !
[adinserter block="4″]
---
Trending Now