Three Sectors I Like for the New Year by Chris White, CFA
Posted On January 20, 2023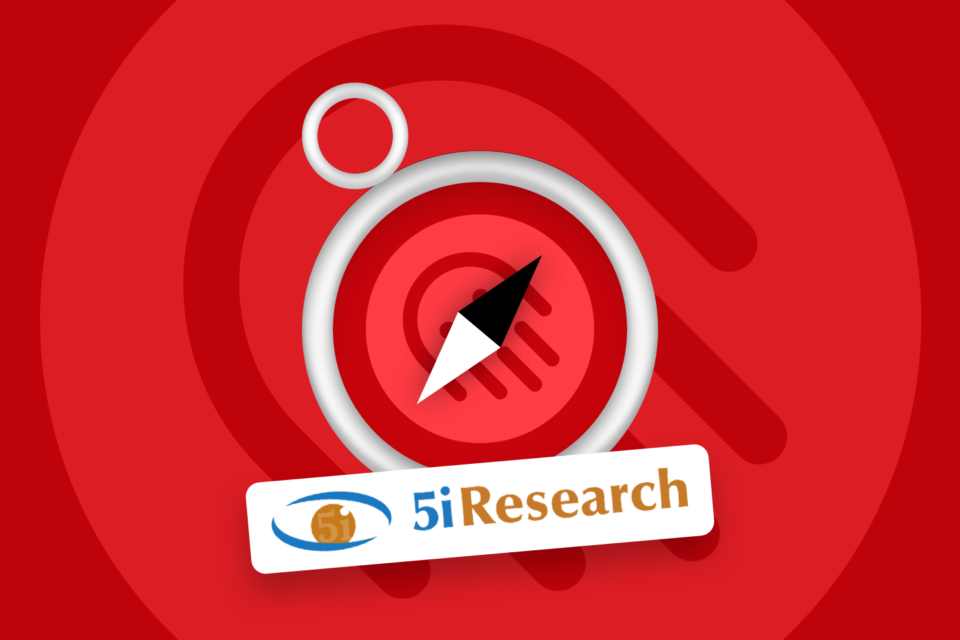 This post was prepared for Stockchase by Chris White, CFA at 5i Research.
This past year has been full of intense swings and intraday volatility, and it has marked one of the worst year-to-date performances in history. The reasons for this volatility may be warranted with unprecedented velocity in Central Bank rate hikes, quantitative tightening, and decade-high inflation. Nonetheless, there are always opportunities in investing, and in this article, I go over the three sectors that I like for the New Year.
Annual S&P 500 Sector Performance
The stock market has roughly 11 broad sectors that define the whole universe of stocks; energy, utilities, consumer defensive, healthcare, industrials, materials, financials, real estate, technology, communications, and consumer cyclical. Each year is different, and certain sectors outperform others in any given year, but there is always a narrative behind each outperformance, and in this market update we aim to uncover the reason for sector outperformances and what we might expect going forward.
We have analyzed the 11 sectors' performance over the past 15 years for the S&P 500 below. Here we are looking at each sectors' relative performance for each year against all the other sectors. For example, in 2008, consumer cyclical ranked 4th out of 11 sectors for performance. Note that in any given year the returns could be either positive or negative, but here we are looking at performance relative to the other sectors. We have outlined the consumer cyclical sector as an example to follow along each year as it moved from outperforming to underperforming other sectors. We can see that it has a lot of year-over-year swings in performance, and there is no one sector that consistently outperforms or underperforms in all years.

Source: Novelinvestor.com, Eikon
Top Sector Performances in a Bull and Bear Market
On this next chart we look at the same table of sector relative outperformance/underperformance, but we have highlighted the years that we felt were defensive/bear market years (in red) and which years were bull cycle years (in green). What we have identified is that in the defensive/bear market years, there are three main sectors that outperform: consumer defensive, healthcare, and utilities. These three sectors outperform in bear market years for a good reason, they are all lower growth, less interest-rate sensitive, non-cyclical, and are considered defensive stocks since consumers 'need' to purchase their goods/services.
The years with a green outline are what we identified as bull cycle years. There are five main sectors that we noticed consistently outperformed in these years – technology, materials, consumer cyclical, financials, and real estate. These are the more interest-rate sensitive, cyclical sectors, and are often dependent on a strong consumer, and so they perform well in years where interest rates are flat or falling, and economic growth is strong.
So far in 2022, it has been a defensive year, with interest rates rising rapidly, economic growth stalling, and the traditionally defensive names, consumer defensive, utilities, and healthcare, have all been top performers. Conversely, the worst performing sectors are the cyclical sectors that perform well in bull markets, being real estate, consumer cyclical, technology, materials, and financials.

Source: Novelinvestor.com, Eikon
These top four sectors for each year represent the top 67th percentile of performance each year, and to demonstrate the consistency in these specific sectors outperforming in a given bear market/bull cycle year, we have looked at the number of occurrences that each sector outperformed in a bull/bear market.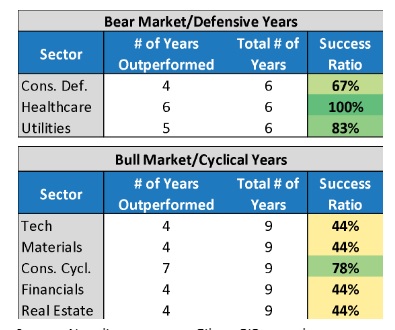 Source: Novelinvestor.com, Eikon, 5iResearch
For example, consumer defensive has outperformed four times out of a total six bear markets in the past 15 years. Phrased another way, in each bear market over the past 15 years, consumer defensive stocks have a high likelihood of being a top performer. Looking at the table we can see that healthcare and utilities have the strongest relationship with being a top performer in a bear market, and consumer cyclical, followed by technology, materials, financials, and real estate have a strong relationship with outperforming in a bull cycle.
Three Sectors for the New Year
When looking at the table of sector performances for this year, we can see that real estate, technology, and consumer cyclical are the bottom three performers for 2022 year-to-date. This does not automatically imply that their respective performances will improve next year, but what history has shown us is that there is a great deal of sector rotation that happens from year to year, and if we end up in a cyclically bull setup for 2022, that on average, the technology, real estate, and consumer cyclical sectors have been outperformers. Our expectations for the New Year are for a sector rotation to take place, where the defensive names that have performed well this year will become relative underperformers, and the cyclical sectors that have been negatively impacted by higher interest rates will become relative outperformers.

Source: Novelinvestor.com, Eikon
The technology sector has been a high-performing sector for years, and rightfully so, given its strong revenue growth profile and net profit margin expansion. The consumer cyclical sector has also been a high performer over the years, as lower interest rates have led to higher consumer borrowing levels, and thus higher consumer spending behaviours. The real estate sector benefits from low levels of interest rates, and positive performing years in the stock market are typically associated with low interest rate levels. Given that these sectors have been the worst relative performers this year, we feel that with inflation pressures easing, a clearer path for interest rates, and a lot of the interest rate hike headwinds behind us, that the traditionally strong sectors of technology, real estate, and consumer cyclical will perform well in 2023.
Try 5i for Free
You can try 5i Research for free with a 14-day trial by following this link and entering the code: wealthica2023
---
Trending Now